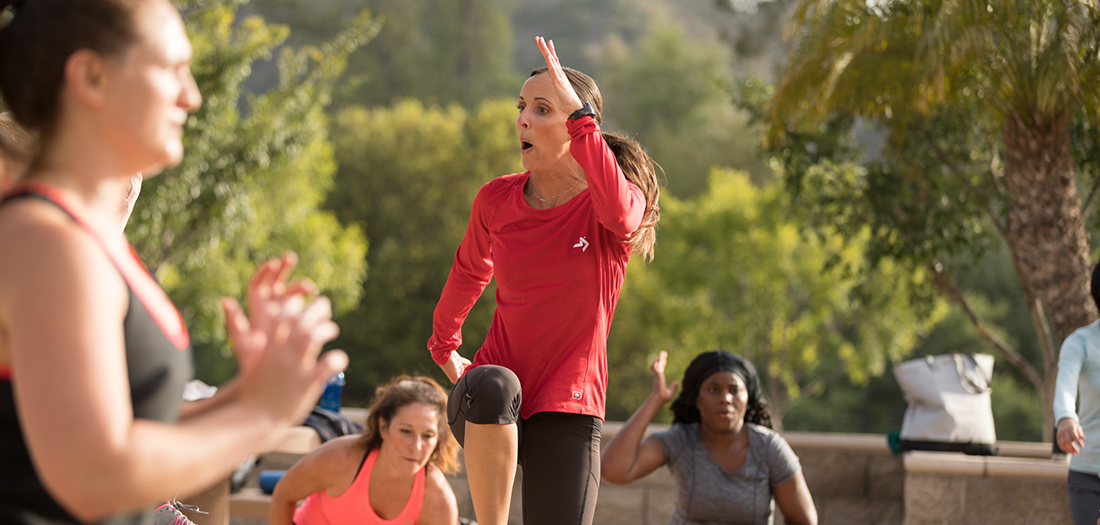 Passing the ACE Group Fitness Instructor certification exam is a great accomplishment to be proud of. Of course, it's only the first step in a long and fulfilling career in fitness. You probably know someone whose career you want to emulate, whether it be teaching a dozen classes a week at a local YMCA or becoming a sought-after professional showcasing exciting programs at trade shows around the world. One thing that makes the fitness industry so exciting is that you have the opportunity to follow myriad paths – or even your own unique path – to be successful.
Follow these five steps to determine where you want to go and to prioritize the actions that will take you in the right direction.
Step 1
: Connect to a network

Connecting with seasoned educators and professionals in the industry – and in your community – is invaluable to advancing your career. A well-established network will help you develop and improve your skills, keep up with industry trends, and gain access to resources for professional success.

There are several important ways to get your professional network going: meet trainers in your community, use virtual support through Facebook groups or other social media, and consider joining professional trade organizations (e.g. IDEA, WIFA ) Join the formal offerings and informal networking opportunities.
Step 2: Take courses from other trainers
Regular participation in courses from other trainers can be a source of great inspiration for newly certified trainers – and this can be done either live or virtually. By participating in multiple formats – some of which may already be interested in teaching and some of which you may be new to teaching – from a range of instructors, you will expose yourself to the many options and styles of group fitness.
To optimize your learning experience, observe the class through the lens of a teacher, not a student, by focusing on sequencing, cueing, motivational strategies, etc. Also, capture your observations by taking notes and highlighting effectively or beneficial the things you found, as well as those that you thought could be improved.
Step 3: consider your options
As a group fitness instructor, you have the option to work for yourself or for an employer. If you're working for yourself, you can provide virtual classes directly to attendees, run classes in the park, or open a studio. If you choose the staff route, there will be a schedule for you to teach in person, online, or a combination of both, and the employer will handle access to and planning of your classes.
Another consideration is the type of facility you plan to teach in. The opportunities for fitness trainers go well beyond the local club in your community. Stay open-minded and think outside the box to find places to get people moving!
You should also consider the types of classes you plan to teach and your preferred method of teaching (e.g., face-to-face, virtual, or hybrid). As mentioned above, you can explore these options while taking classes from other instructors to get a feel for where your talent lies.
Step 4: Practice teaching and get feedback
There is a huge difference between the knowledge required to teach group fitness and actually leading group fitness classes. It takes time and effort – that is, practice – to develop these new skills. Take the time to practice alone, invite family and friends, and finally, invite co-workers for a practice lesson if you can. Self-assessment and feedback from others provide valuable information about your class design and implementation. It can also help you prioritize your development and future practice hours.
Step 5: commit to being a lifelong learner
While passing your first certification exam lays the foundation for what you need to know to safely and effectively teach group fitness, professional development is achieved through lifelong learning. The most successful instructors actively seek opportunities to learn and grow well beyond the basics or minimum requirements for recertification, and their desire to explore those opportunities usually begins immediately. Investing in your professional development doesn't have to cost a fortune as there are numerous budget-friendly options, including free ACE webinars and quizzes based on ACE Certified ™.
When the time comes for you, start branching out and exploring wider opportunities to develop your skills and expand your expertise. These options include personal or virtual fitness conferences and workshops, specialty certifications and specialty programs.
Source link