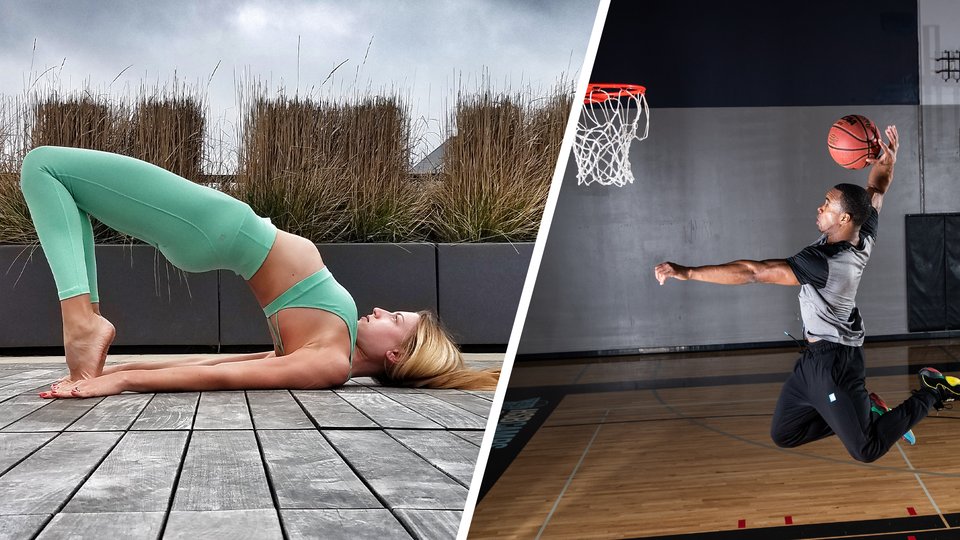 Each sport is unique, but athletes of all sports seek improved performance, bigger goals and better results. Yoga can help with all three, especially if it's tailored to the particular sport. We talked about movements that work best for runners, and now it's time to talk about yoga and basketball.
The off-season may be in full swing, but that's the key to improvement. Recovery is as important as ever, if not more important. Nobody wants to be in pain before the start of the season!
Basketball is extremely fast, with many jumps, twists, turns, co-ordinations and sprints that put a heavy strain on the joints and tendons. Keeping them flexible and strong prevents injuries and helps recovery. Here are the five favorite moves I incorporate into each yoga flow to keep my basketball players in top shape:
Anjaneyasana: Crescent Longe
The Crescent Longe simultaneously stretches the thighs, the quad, and the hip flexor. Alignment is the key, so make sure your knee does not stick out over your ankle, straighten your stretched leg, and grip your quadriceps throughout the stretch to protect the knee. Raise your arms; Use inhalation to stretch your entire spine and exhale to get deeper into the pose. Keep your shoulders away from your ears and relax your upper spine while making sure your core stays busy. Take five full breaths and change legs.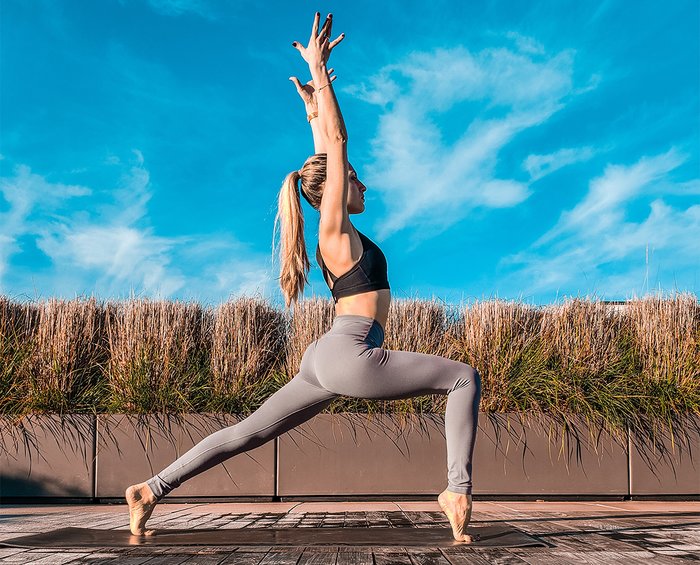 Vrksasana: Tree Pose
Balance is extremely important in basketball as you frequently stop and start, change direction and stay on the balls of your feet in defense or jump off one leg to make a layup or dunk. If you mimic these movements in training and teach your body to get stronger and train the right muscles, injuries are minimized and you can perform the movements more efficiently.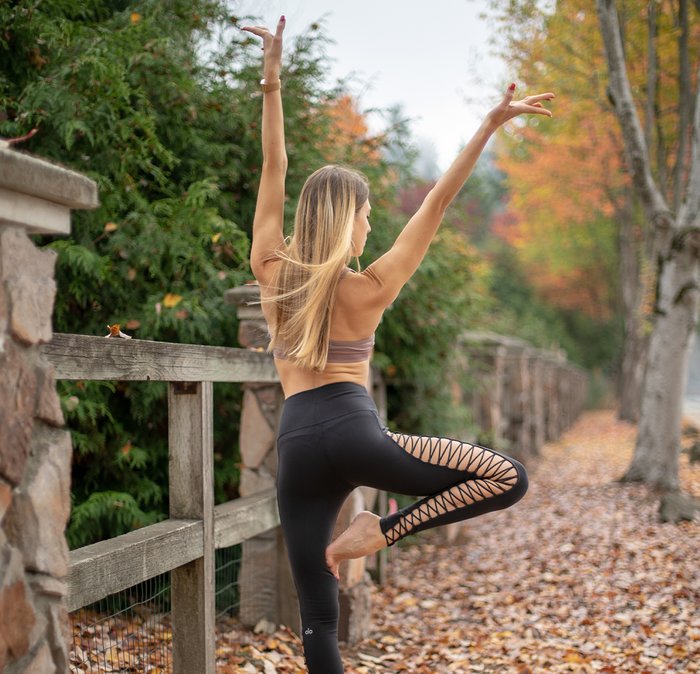 Tree-keeping is one of the equilibrium situations that will put you to the test no matter how long you have been practicing yoga. Put the muscles on your leg and lift the other. Place your foot on the support leg above or below the knee, being careful not to press against the knee. Press the sole of the foot into your leg for stability without slipping off. Tighten your torso muscles and pull your chest down so you do not get into a bend. Remember to breathe. You can enhance this pose by closing your eyes for one or two breaths. Stay for 5-8 breaths and change legs.
Virabhadrasana II: Warrior II
There is no doubt that a strong Warrior II is the foundation of any yoga practice. It not only opens the hips and protects the lower back, but also tightens the legs and provides stability in the ankles. Open from Warrior I to Warrior II and make sure you go as deep as your body allows. The challenge lies in the depth of the pose – the deeper you go, the harder it gets!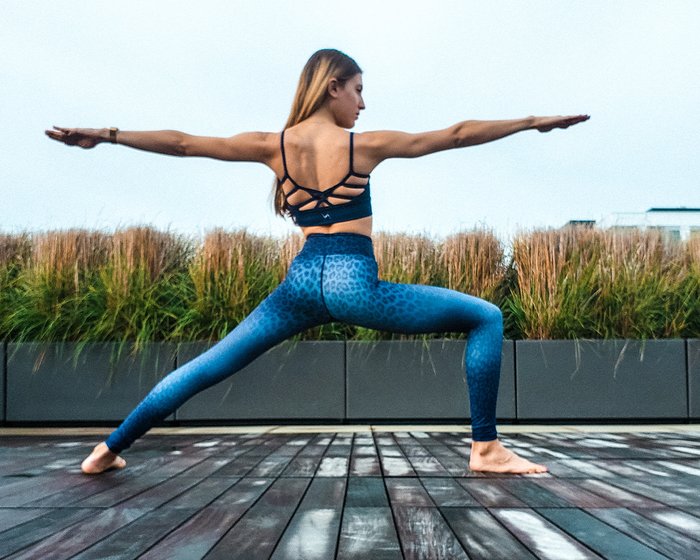 Hold your bent knee just above your ankle and watch your back foot – the outer part should be pressed firmly into the ground. Build the pose from the ground up and open your hips as much as possible as long as your knee is in line with your hip. When the knee goes in, close your hips slightly. Remove the curve from the lower back by pulling up on the navel and closing the rib cage. Keep your shoulders away from your ears and open your chest without leaning into a bend. Look over your forearm, activate your hands and send energy through your body. Deep breathing allows you to dive deeper into the pose. Repeat on the other side after five cycles.
Kumbhakasana: Plank
Nothing works on the shoulders and hull like a good old plank. Stability of the hull and a strong core provide coordination, rotation, balance and maximizing your overall strength – all that is required in basketball.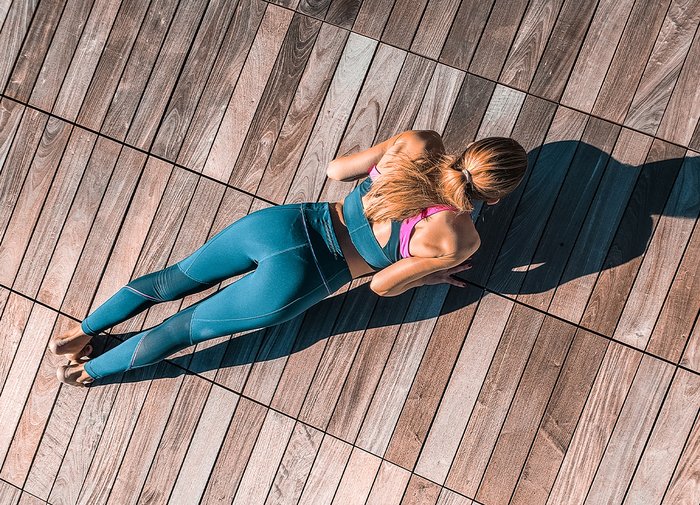 Place your palms directly under your shoulders, engage your quads and hamstrings, tone your core, and breathe. Make sure your hips are not too high or too low and avoid curvatures in the lower back. Squeeze into the ground below you and feel your shoulder blades separate to make room in your upper back. Stay there for a few breaths and then slowly move your body back and forth to challenge your core even more.
Setu Bandhasana: Bridge
Bridge is a powerful pose that activates the hips and gluteal muscles while protecting the lower back and buttocks from muscle pain. These muscle groups may suffer a shock if you constantly hit the hardwood, sprint and do exercises that emphasize the explosiveness. The bridge is your ultimate relief.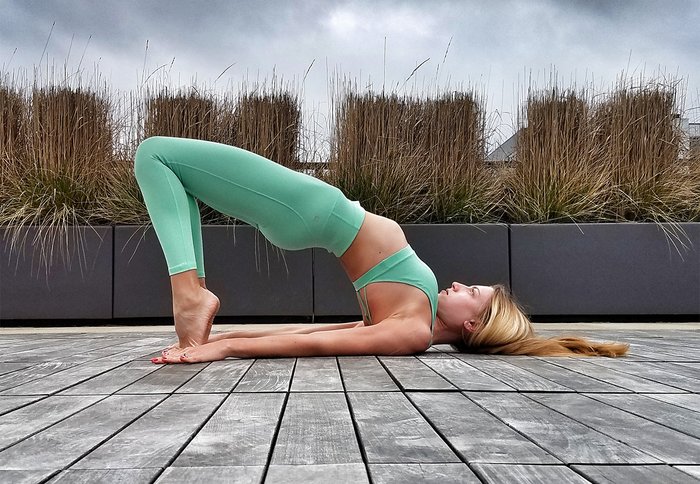 Lie on your back, bend your knees and place your feet flat on the floor, hip-width apart. Place your arms next to your body with your palms facing down and pressed into the ground. As you breathe in, slowly lower the lower back, middle back, and upper back from the floor. You can leave your arms where they are or slowly roll your shoulders under your body. Then interlock your fingers and push them into the floor, creating a larger opening in your chest.
Use inhalation to extend the spine and send your tailbone away from you as much as possible, and exhale to raise your hips even higher. Avoid bringing your chin towards the chest. Instead, think of the chest to the chin as you move your hips upwards.
If you like this article, you'll love Mind Body Fit, an innovative, holistic approach to fitness that offers you the best of three worlds: training, yoga, and meditation.
Source link