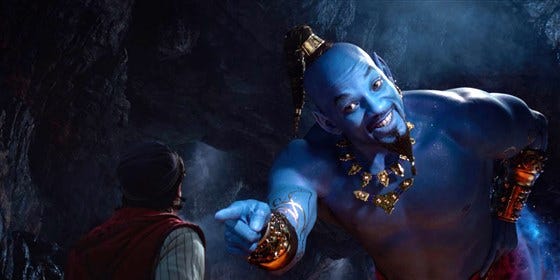 Disney has dropped a new trailer for the upcoming live-action remake of the animated classic from 1992 Aladdin during last night's Grammys. And while much of the material in the trailer familiarizes the fans of the original (the iconic entrance with the tiger appears in the Cave of Wonders), one aspect of the trailer has proved very controversial.
After months of teasing we were finally introduced to the latest version of the clever, willing genius, a character immortalized by the late Robin Williams, played by Will Smith this time. And the people freaked .
Using the eerie Valley CGI and costume jewelery directly from Thano's # QVC collection, the genius was instantly transformed from a lovingly remembered childhood into a nightmare.
Seriously. The topknot might be called "Namaste", but that eerie grin says "Namastab while sleeping".
Fans had been waiting to see what this new interpretation of the character would look like, but this presentation came, we should say, out of the blue. After all, when Smith appeared on the cover of Entertainment Weekly in December 201
8, his look was much more "school play" than "Smurf rising." That was obviously a blue herring. [19659004] But not all are unsettled by the blue-tinted, tiny-nipple daddy-who-do-soul-cycle aesthetic, some people are just a little bit taken aback that the visual effects are not better
[19659003] Smith has promised that genius will be different from Williams' cartoon. He tells
Entertainment Weekly
that he infuses the character with a "hip-hop flair". We can find out what that means when the movie starts in the US on May 24th. Until then, one thing is certain: You
never had
a friend like this one.
Source link