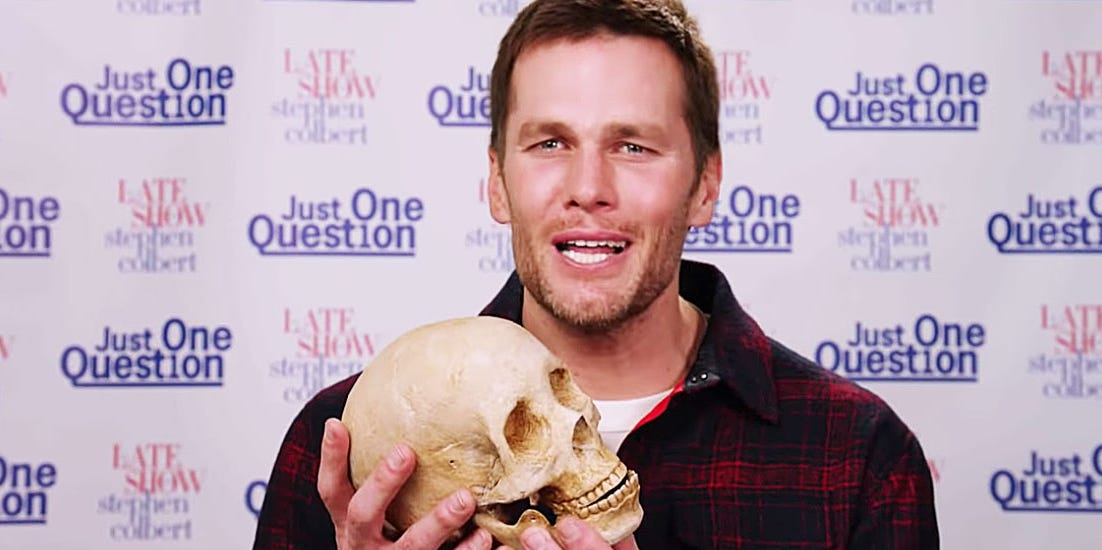 Tom Brady is not ready to hang up his tunnels yet, but that does not mean he has no plan when he does.
During a brief appearance in the Late 1945 Show with Stephen Colbert on Thursday, Brady revealed that his "retirement" plans include baseball and … Shakespeare's drama?
"I'll play baseball after football," Brady said. "And after baseball, I'll play Hamlet."
The segment was, of course, joking – part of a gag involving the Patriots quarterback and other Sunday Super Bowl participants to answer the questions from Colberts Late Night ̵
1; that's good, though considering that the less than stellar actors have shown Brady in the clip.
After announcing his plans to play the tragic Prince of Denmark, Brady produced a skull and recited the beginning of the character's famous "aas, poor yorick" language. The performance was as flat as a deflated football.
Brady was not the only NFLer to receive Colbert treatment in this segment. Other highlights of the clip include the defensive end of Los Angeles Rams, Dante Fowler Jr., who plays the accordion, and New England Patriots tight end, which "unveils".
The segment came just a few days before the Super Bowl, where the Pats, who are making their third appearance in a row in the big game, will compete against the insurgent Rams in Atlanta. Brady, who has already won five Super Bowl rings and four MVPs, plays in his eighth NFL championship.
For those of us who despise the patriots and those they stand for, Brady's continued dominance is unimaginable. Yet, at 41, he is still active and shows no sign of easing. He said he wants to play in his 40s, wants to tackle a high caliber and controversial diet and exercise routine to do so, and seems ready to pursue another contract extension. Of course, all of this will eventually come to an end – but one can safely say that we will not see Brady on stage so soon.
Source link