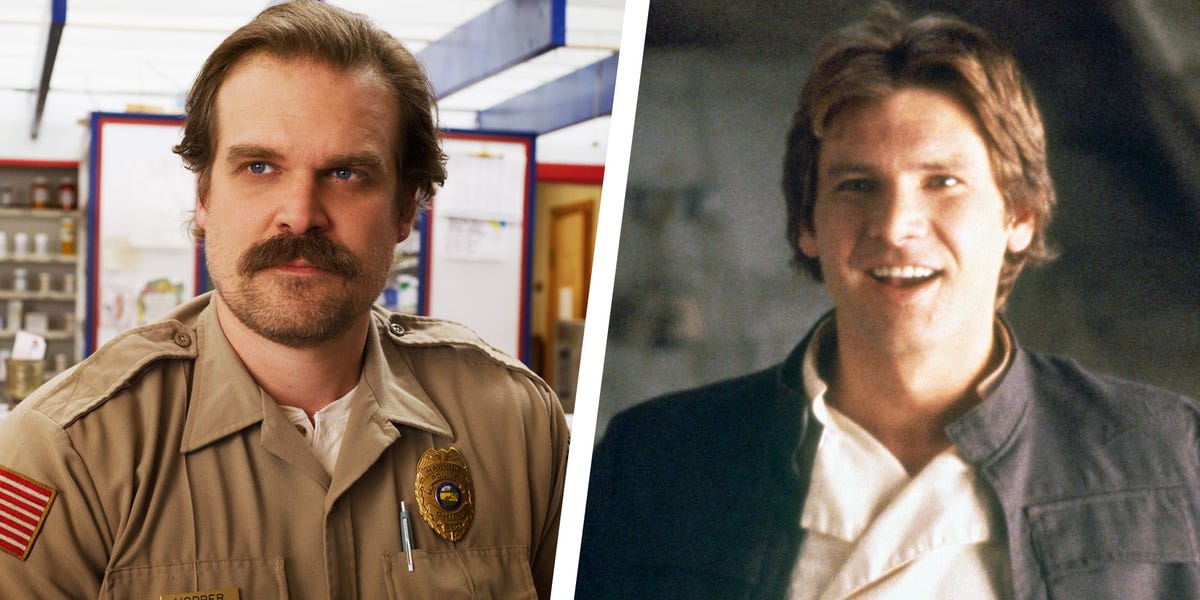 Warning: This post contains spoilers for Stranger Things 3. If you have not seen the third season, you should probably stop reading now.
---
• With Stranger Things 3 we try to find out what might come next.
• A well thought-out theory compares Strange Things and Star Wars .
• Could reveal the return of the Jedi what will happen in the future of Stranger Things ?
---
At the end of the third season of Stranger Things fans were faced with a series of important questions. Some of the most urgent questions were whether Jim Hopper really died or not, and the identity of "The American" in the Russian prison scene after the credits.
We recently asked these questions in an interview to actor Brett Gelman, who plays Murray. While he did not take the bait, Gelman made a strange comparison between Hopper and another iconic, complicated hero: Han Solo.
Gelman's skilful comparison aroused my curiosity, forcing me to do a quick Twitter search to see if anyone else noticed the similarity of the two characters. As it turned out, some people did, including Politico Bill Kuchman .
Kuchman not only drew the same Han Solo / Jim Hopper comparison, but went one step further and suggested that other Star Wars cues in Stranger Things 3 Create a Roadmap for the Future of the Netflix Series.
The theory is simple, but begins with some important comparisons from the end of Stranger Things 3 . As you may remember, before he kills the Russian Terminator, Hopper brings back one of my favorite trends, the action movie Pre-Kill One-Liner, "See you in Hell."
If that line seems familiar to me, because Han Solo in The Empire Strikes Back has said exactly the same thing.
The obvious deaths of both characters are similar At the end of Empire is Han Solo captured by Boba Fett and Darth Vader and then frozen in carbonite, while Stranger Things ends with hopper being "killed" while the upside down machine is destroyed.
Stranger Things Steve and Robin look for a new job in a video library The employee interviews Steve about his favorite movies and replies that he likes [1945900] 4] Star Wars. Which one? "The one with the teddy bears. Duh. "That would be the return of the Jedi.