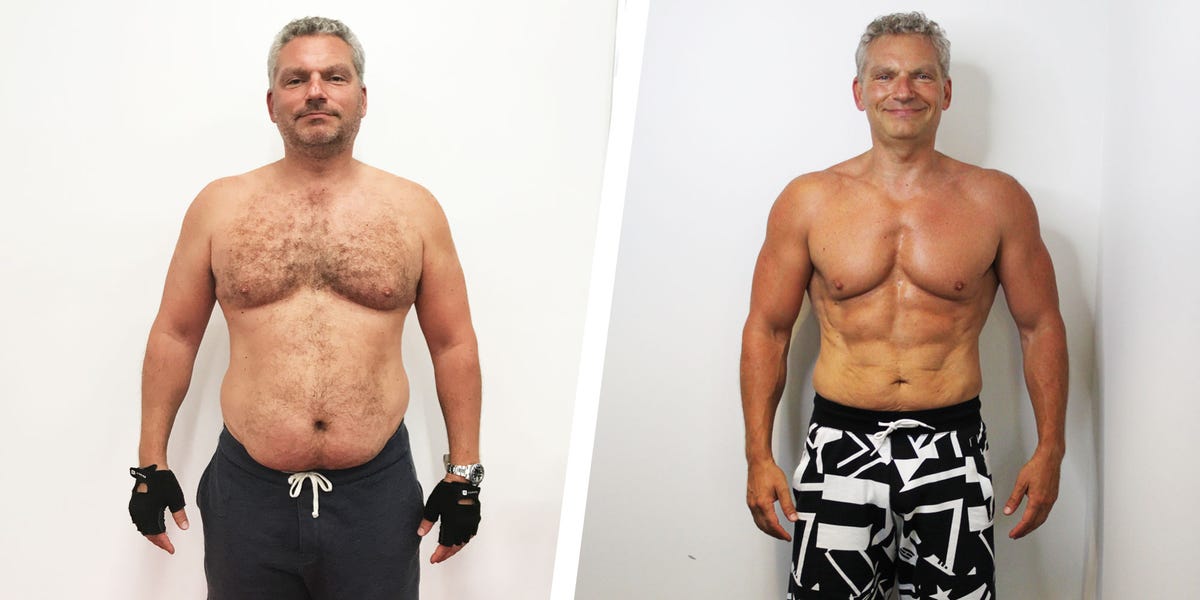 • In the mid-forties, Tamas Haiman stopped drinking and processed sugars to lose weight.
• He also hired a personal trainer to help him develop a rigorous exercise plan and a healthier diet.
• After pledging to eat healthier and exercise regularly, he completed a dramatic 60-pound weight loss transformation in just 16 weeks.
---
When Tamas Haiman was the hardest, he felt like he was living in someone else's body. He would be out of breath as he walked up hills – the same hills where he sprinted with a 20-kilogram jacket. "I stopped weighing myself when I hit 230 pounds, but I think I've reached a climax beyond that," he says. "I was 45 years old."
46-year-old Haiman, who works as a banker in London, says he was very active for many years ̵
1; he ran marathons, cycled, went to the gym regularly – but eventually his travel schedule wavered. "I stopped exercising completely," he says. "Things went downhill very fast and I really ballooned in six months." However, Haiman points out that his diet, not necessarily the decline in activity, makes the biggest contribution.
However, once his schedule stabilized and he did not have to travel that much, he was able to train regularly. At the time he was living in Los Angeles, seeking the help of an elite gym – Up Ultimate Performance – to find a realistic nutrition and exercise plan. "I set my diet overnight," he says, adding that he has increased the exercise amount to at least four or five days a week.
On the nutrition front, he began with the most obvious culprits: alcohol, processed carbohydrates, and processed sugar. Immediately he cut them all out. "Then I focused on the macros for each meal, not the total calories, I bought a scale to measure high-calorie products like nuts, and tried to eat as much as possible organic non-processed food." (Haiman remembers how his housekeeper panicked when he came home with two huge sacks of celery, kale, broccoli and spinach and mentioned that this was for the next three days.) "Overall I've eaten more than before, but better, "he says.
As for his training, he started with a combination of strength and strength training and some sessions with strong men at UP while working with his trainer Eddie. "To say that he is an exceptional coach is a great understatement, I tried other people, but nobody compared it to focus, quality of training and intensity." Haiman was also busy on his rest days and occasionally worked on walks, bike rides or long walks. The biggest challenge is to avoid injury: "With the weights we've finally worked with, it's really important for someone to observe and correct their movements."
That is, there were unavoidable challenges: At some point, all plateaus were formed, and Haiman was no different. "In the end, there's nothing left but to go through it and be patient," he says. "They try to make small changes and see what works, such as increasing your daily steps or cutting out certain types of food." After Haiman set his diet and fitness plan, the weight dropped quickly – between 2 and 3 pounds per week. After about 16 weeks, he burned almost 60 pounds of fat.
Source link