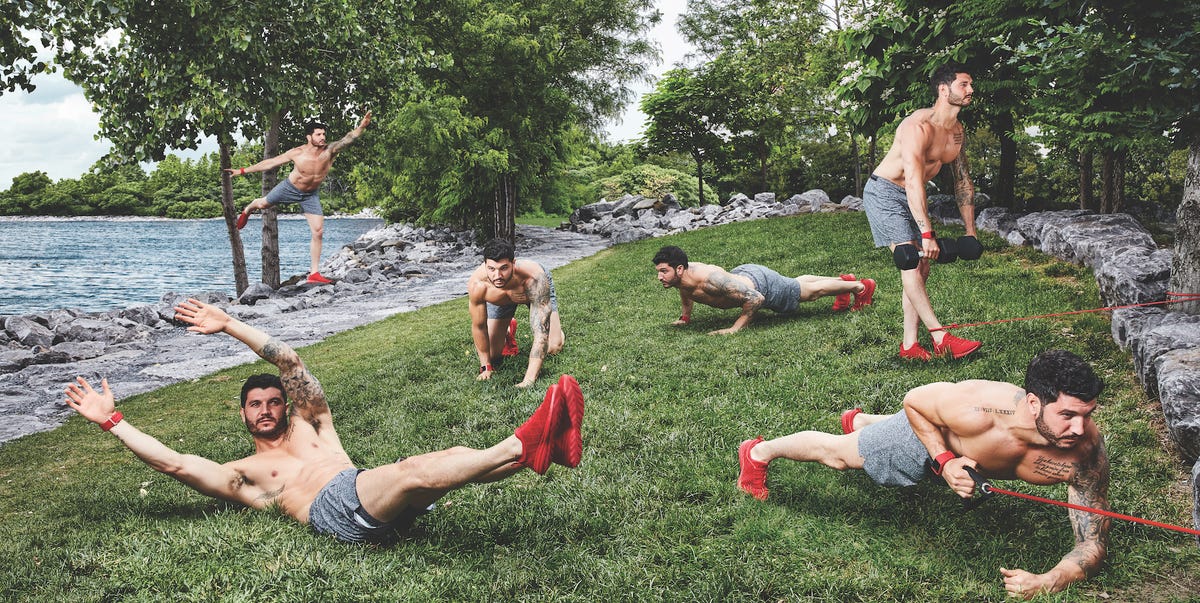 Good training promotes efficient movement. That's the goal of this 28-day program by action hero trainer Patrick Monroe. It's a routine on the go, designed to make you stronger and faster – perfect for the summer. Do this for up to three non-consecutive days per week.
Instructions
Perform four 10/7/5/3 mini-sets in moves 1 and 3 – 10 reps, 10 seconds pause; 7 repetitions, 7 seconds rest; 5 repetitions, 5 seconds rest; then 3 last repetitions. In paired exercises (2A, 2B, 4A, 4B), do 10 reps of the first and 10 reps of the second move, 7 reps of the first, and 7 reps of the second move, etc., until you have completed 4 mini supersets. In the picture above you will find examples of each exercise.
. 1

One-Leg Chain
Attach a resistance band to a low object and then to your right ankle. Step back and stand on the anchor point. Hold a medium weight dumbbell in each hand. Lift your right foot and tighten your right gluteus muscle. This is your starting position. Balance on your left foot and fold forward at your hips until the weights are near the floor. Return to
the starting position. Now push your right foot behind you and bend the dumbbells
to your shoulders. Put your right foot on the floor, push the weights up, lower them onto your shoulders and finally bend them to your hips. This is 1 repetition. Change legs after each mini-set.
2A. Tuck Crawl
Take a push-up position with the balls of both feet on a single slider or towel. Pull your knees as close to your chest as possible. Now move forward on your hands and keep your knees firmly in the direction of your chest and abdominal muscles. One step to the left followed by a step to the right corresponds to 1 repetition.
2B. Gator Roll
Lie on your stomach, stretch your arms over your head and lift them off the floor. Push your butt and lift your legs. Roll to the right and keep your arms and legs away from the floor. Roll back to your stomach and repeat to the left this time. This is 1 repetition. (Too easy for you? Try holding a light dumbbell in each hand.)
3. Wax-on Pushup
Take a push-up position with the ball of your feet on a pair of towels or sliders. Now do a push-up. Keep your hips as low as possible and spread your feet wide. Pull both knees towards the chest. Then pull your legs together as you return to the push-up position. This is 1 repetition.
4A. Spinal Tap
Stand on a chair with your right hand. Lift your right foot. Bend with your left leg as straight as possible and touch your right toes with your left hand. Grasp backwards with your left arm and your right leg so that both limbs form a straight line with your upper body. That's 1rep. Do all repetitions, change sides and repeat.
4B. Plank Lat Pull
Attach a resistance band to a low object. Step back with the ribbon in your right hand and take a one-armed plank position, with your right arm reaching forward. While holding the solid plank form, pull on the ribbon until your right hand is near your shoulder. This is 1 repetition. Do all your repetitions, change the page and repeat it.
Alternative Moves
1. Crop Circle
Caption (s) for: Single Leg Chain