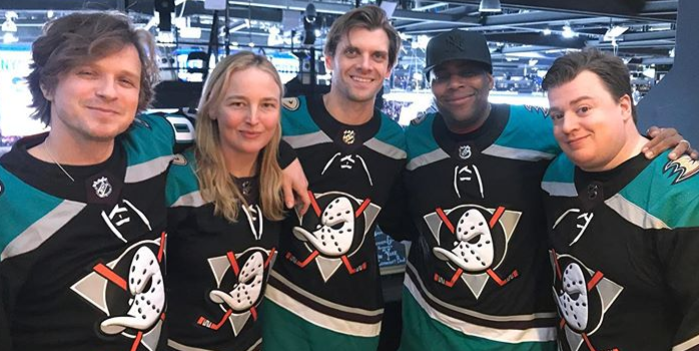 Disney's The Mighty Ducks has a place in the heart of every child from the 1990s, and we're surprised that the House of Mouse has not tried to earn that nostalgia with a reboot or a win Comeback already.
We know that we would get along well, as we do not want to admit that we have just received the warm and fuzzies from these reunion photos posted on Instagram.
These images posted by Anaheim Ducks Team, Characters from the trilogy of classic children's films: Vincent LaRusso (Adam Banks), Kenan Thompson (Russ Tyler), Danny Tamberelli (Tommy Duncan), Garrett Ratliff Henson (Guy Germaine) and Colombe Jacobsen-Derstine (Julie) Gaffney).
They even have their character names and numbers on their jerseys, which is a nice touch.
"The quack attack is back, Jack!" Reads the caption of the pictures. "I am glad that we have some Mighty Ducks for the game and some other funny projects on Long Island today."
The Anaheim Ducks were actually founded by The Walt Disney Company after the original film was released in 1
992, and were actually called The Mighty Ducks of Anaheim until they sold the name of the franchise in 2005.
A fourth film was rumored for years, but never realized. Last year, a spin-off of television was at an early stage of development, possibly for the Disney + streaming service.
Source link