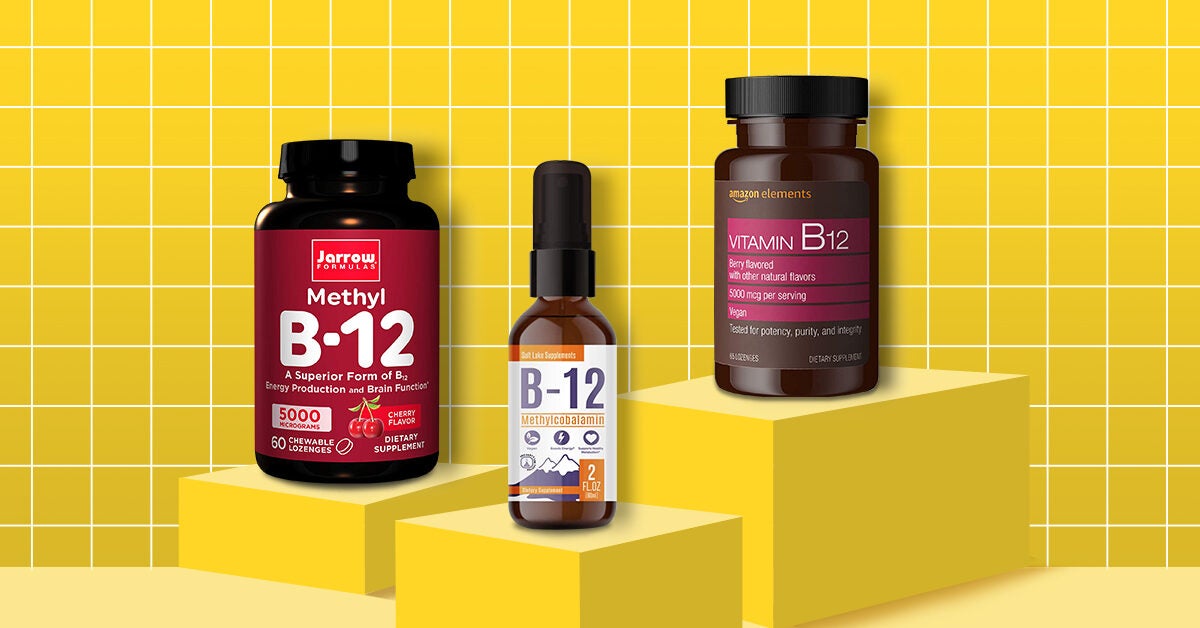 Ordinarily, B12 needs are easily met with food, but around 1.5 to 15 percent of people can still be deficient. Vitamin B12 as a supplement is usually found in multivitamins, but can also be used on its own.
There are several forms of B12 supplements, but all of them are effective at improving B12 levels.
The most popular B12 supplements are usually made from cyanocobalamin or methylcobalamin. They are almost identical with only a minor difference in the molecules. Methylcobalamin is identical to the form of B12 found in foods like fish, meat, eggs, and milk. Cyanocobalamin is a synthetic version.
The recommended daily intake of B12 is 2.4 micrograms, but many experts believe that the current recommended daily allowance for vitamin B12 is way too low. Consuming 6 to 10 micrograms a day can help ensure that you get enough B12.
Not getting enough B12 has some serious side effects. National Institutes of Health lists the characteristics of B12 deficiency as follows:
Megaloblastic anemia (unusually large and immature red blood cells)
fatigue
constipation
Loss of appetite
neurological problems such as balance disorders, depression, and confusion
What Increases Your Risk of B12 Deficiency?
Following a plant-based diet. People following a vegetarian or vegan diet are at higher risk because meat, eggs, poultry and other animal dairy products are the main sources of B12. Non-animal B12 foods are limited to a few types, but these may not be bioavailable (or easily absorbed). Research also shows that these forms can compete with bioavailable forms of B12 for absorption, potentially making a deficiency worse.
Taking certain medications. People who take certain medications (like metformin, Prilosec, or Pepcid) may need more vitamin B12. These drugs can affect the absorption of B12. It is therefore recommended to take 500 to 1,000 µg per day as only a small part of the B12 preparation is absorbed.
Age. With increasing age, the gastric acid production required to absorb vitamin B12 decreases. Less absorption = less B12 that your body can use.
When choosing the best B12 supplements, we took a number of criteria into account.
Only the best reviews. We have selected products that are as close as possible to 5 stars with thousands of reviews.
Quality is the key. We have also selected products that have strict standards in terms of the quality of the dietary supplement and have sought assistance from healthcare professionals.
Meets many needs. Everyone needs B12, but not everyone has the same lifestyle. We wanted to include products with different B12 levels suitable for different dosage needs, as well as vegans, vegetarians, and allergy sufferers.
Pricing information
$ = under $ 15
$$ = $ 15- $ 20
$$$ = over $ 20
Best soft gel
1. Nature Made B12 – 150 count
Why we chose it: Thousands of pharmacists have classified Nature Made as the top brand for vitamins and dietary supplements for 23 years. This B12 soft gel is made without gluten, artificial flavors or synthetic colors. It is a real classic daily supplement.
Considerations: It is not intended for everyone. The use of gelatine is not suitable for vegans and the ingredient soy oil cannot be taken by people with a soy allergy.
Whichever way you take it: Each capsule contains 1000 micrograms of B12 and you take one per day with water and a meal.
Price: $$
Buy Nature Made B12 online from Amazon.
Best high dose
2. Natrol Vitamin B12 Fast Dissolve Tablets – 200 count
Why we chose it: These quick-dissolve tablets do not require water, which you can take anywhere, anytime. It's a great option for those dealing with food allergies as it doesn't contain milk, eggs, fish, shellfish, tree nuts, peanuts, and soy
Considerations: To get its sweet strawberry flavor with every dosage, this supplement uses xylitol. It is a sugar alcohol that is often well tolerated, but due to its ability to draw water into the intestines, it can cause indigestion.
Whichever way you take it: 1 tablet a day makes a whopping 5,000 micrograms of B12.
Price: $
Buy Natrol Vitamin B12 Fast Dissolve Tablets Online.
3. Amazon Elements Vitamin B12 Methylcobalamin – 65 count
Why we chose it: This is another high-dose option, but you take it (or you can chew it) once a day like a cough drop lozenge. These berry-flavored lozenges are gluten-free, contain only natural colors and flavors, and are suitable for vegans. They are also made in a GMP (Good Manufacturing Practices) facility which is regulated by the FDA to ensure quality.
Considerations: This product also uses sugar alcohol in the form of xylitol and mannitol. This gives the lozenge a nice sweet taste, but it can also cause stomach ache and a hectic trip to the bathroom if you are sensitive to sugar alcohol.
Whichever way you take it: You get 5,000 micrograms of B12 with 1 lozenge per day.
Price: $
Buy Amazon Elements Vitamin B12 Methylcobalamin Online.
Best chewable
4. Jarrow Formulas Methyl B12 – – 60 count
Why we chose it: This chewable tray has over 11,000 reviews and high star ratings online. Bonus to all of us who have forgotten, you only need to take this supplement every few days and it uses the most bioavailable form of B12 (methylcobalamin).
Considerations: The sugar alcohol xylitol is also included in this supplement, but it may not put as much strain on your gut if you only take it every few days.
Whichever way you take it: Dissolve in the mouth or chew 1 lozenge every 3 to 4 days with a meal. This will give you 5000 micrograms of B12.
Price: $
Buy Jarrow Formulas Methyl B12 Online.
Best rubbers
5. Vitafusion Vitamin B12 Gummy – Count 140
Why we chose it: If you want a great tasting supplement, it can be found in your medicine cabinet. Critics love the raspberry flavor, and the gummy shape makes taking this vitamin a slightly greater pleasure.
Considerations: The addition of glucose syrup and sugar causes these gums to contain calories and carbohydrates in addition to B12. This could be a deal breaker for anyone on a low-carbohydrate diet or looking to avoid an added sugar supplement.
Whichever way you take it: Thoroughly chew 2 gums a day for 1000 micrograms of B12.
Price: $$
Buy Vitafusion Vitamin B12 Gummy Online.
6. Solimo Vitamin B12 – 100 count
Why we chose it: Gelatin is a common ingredient in gums, making it a non-viable option for vegans. Solimo went the way based on pectin, a fiber made from fruit. Not only can vegans enjoy this raspberry-flavored gummy bear, but people who are allergic to gluten, wheat, dairy products, soy, and egg (since it's free from them) can also enjoy it.
Considerations: This gummy bear also contains added sugar so that the gummy bear looks more like candy and less like a supplement. While it's a small amount (2 grams to be exact) this may not be suitable for you if you're trying to avoid excess sugar.
Whichever way you take it: Chew 2 gummies completely for a dose of 3000 micrograms of B12 per day.
Price: $
Buy Solimo Vitamin B12 Online.
Best capsule
7. Doctor's Best Fully Active B12 – – 60 count
Why we chose it: One of the cheapest B12 supplements on the list, you get 2 months worth of active B12 supplements for about the same cost as a fancy cup of coffee. It can also be taken by vegans and vegetarians. It's also free from GMOs, gluten, sugar, and soy.
Considerations: Some people may have complications swallowing capsules and it will take their body longer to break down compared to chewable tablets or gums, which break down when you chew. This means that capsules may take longer to absorb.
Whichever way you take it: Take 1 capsule daily with a meal to get 1500 micrograms of B12.
Price: $
Buy Doctor's Best Fully Active B12 online.
Best drops
8. Salt Lake Supplements Vitamin B12 Liquid – – 2 fluid ounces
Why we chose it: This product is heavily marketed towards vitamin B12 but is technically a B-complex supplement.
What we mean by that is beyond B12, it also includes B2, B3, B5 and B6. Studies have shown that B-complex vitamins can help reduce stress and improve your cognition. In addition, a 2013 study found that 60 days of vitamin B complex reduced depression and anxiety symptoms in 60 adults.
Considerations: Since it's a liquid, getting the right dosage can be a little trickier compared to using a capsule or gummy bear (especially after reading these dosage instructions). It's also another supplement that contains sugar alcohol in the form of sorbitol, which can lead to bad stomach noises.
Whichever way you take it: Shake well before each use. Half fill the dropper, then squirt under your tongue and hold for 20 seconds. After that, swallow the supplement and repeat the same instructions for the full dose (1 ml). One full dose is 1200 micrograms of B12.
Price: $$
Buy Salt Lake Supplements Vitamin B12 Liquid Online.
Best vegan
9. MaryRuth's Methyl B12 Organic Liquid Spray – – 1 fluid ounce
Why we chose it: This supplement is not only characterized by a spray, but also has a tasty berry flavor with no added sugar. It's vegan and kid-friendly, and made from organic ingredients (if that's your style). It's free from gluten, wheat, yeast, soy, and GMOs.
Further research needs to be completed. However, a 2013 study by the Cardiff School of Pharmacy & Pharmaceutical Sciences found that B12 sprays may be absorbed faster in order to get recommended B12 levels quickly.
Considerations: One downside is that it's the most expensive supplement on this list and only lasts a few months before you need to replenish it.
Whichever way you take it: Just 4 sprays in your mouth a day will yield 3000 micrograms of B12.
Price: $$$
Buy MaryRuth's Methyl B12 Bio Liquid Spray Online.
Source link