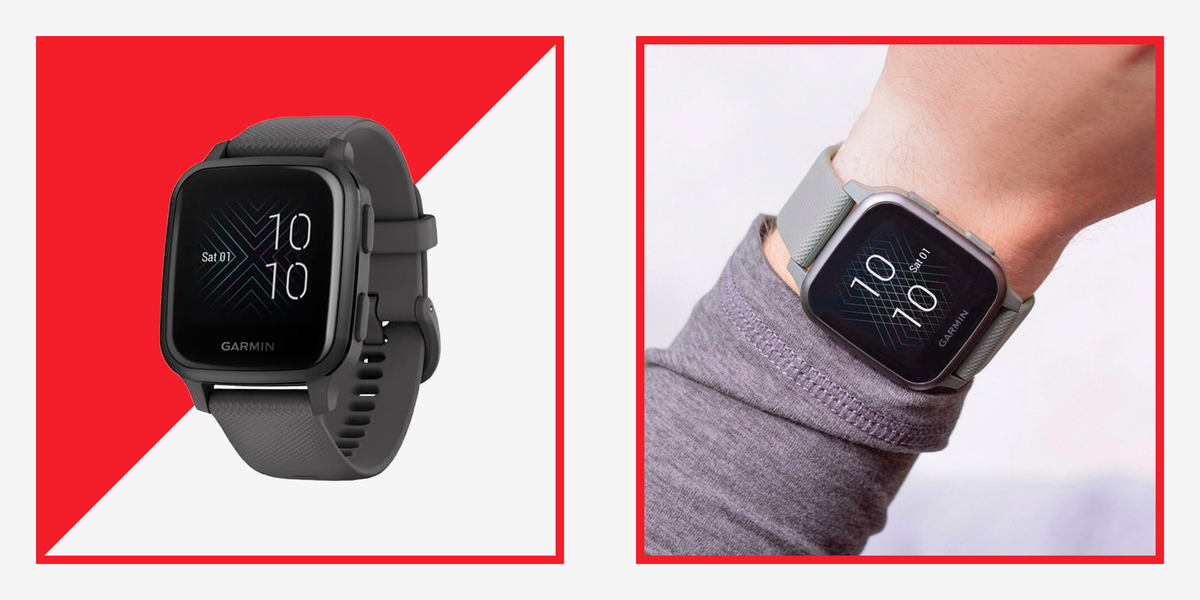 I lived without a smartwatch for the first 28 years of my life and was relatively satisfied. Sure, I've been curious about the supposed benefits of wearables, but I always have a Goldilocks dilemma: the smartwatches I can afford are clunky and lighter in features, while the sleeker, souped-up models I coveted are falling way out of my budget.
Enter the Garmin Venu Sq Music Edition smartwatch. After a full week of testing, Garmin's latest model could finally convince me to leave my bare paths behind and finally become a smartwatch converter.
The first thing I noticed about this smartwatch was the price. Garmin̵
7;s two new models – the Venu Sq and Venu Sq Music Edition – cost $ 199 and $ 249, respectively, making them significantly cheaper than the brand's
Came
and newer models from competitors like Apple. The clocks are practically identical, with the exception that the Music Edition's built-in memory allows you to synchronize up to 500 tracks with paid streaming services such as Spotify, Amazon Music or Deezer and play them via Bluetooth headphones. For an extra $ 50, this is a great perk if you want to go for an early morning run or even an early morning walk the dog and jam but want to leave your phone behind.
With a 1.3-inch color LCD touchscreen protected by Gorilla Glass 3, the Venu Sq is slightly larger than simpler fitness trackers, but still unobtrusive and light enough that I often forgot to wear it. While the Venu has a circular face, the Venu Sq – you guessed it – has a square face, which makes it look very similar to the Apple Watch in terms of design. There are two navigation buttons on the right side of the face. However, almost all of the functions of the Venu Sq can be easily accessed by swiping the face.
I found the setup a breeze, with an intuitive process of pairing the watch with my iPhone using the Garmin Connect app. From there, I was able to enter my personal health information, choose my settings, and add a credit card for contactless payment (a great feature at a time when I try to keep as few surfaces as possible).
The Venu Sq gives you all the information you would expect from a smartwatch, such as: B. Heart rate and step count, but also proprietary features like Body Battery, a score that monitors your energy level throughout the day to help you optimize when to rest and when to get active. I also began to see how dehydrated I was every day before the observation by tracking my water intake and the activities that caused my stress levels to rise and fall (a high pressure work presentation shot up the number one and a half – hour of outdoor reading brought it down again) . I've always been a little cynical about fitness tracking, thinking it was just more data and noise to clutter my brain. But I can confidently say that the tracking capabilities of the Venu Sq have made me better attuned to my body, more understanding of habits that I need to break, and more forward-looking about specific health goals.
In addition to the scaled-down tracking functions, the Venu Sq has an impressively robust suite of specific fitness activity trackers, ranging from more rudimentary workouts like running, cycling and swimming (waterproof to 5 ATMs) to more specialized activities like standing. Paddling, cross-country skiing and yoga. The recordings of these workouts are saved in miniature on your smartwatch and then synced to Garmin Connect, where you can explore trends in your personal fitness with greater depth and nuance.
One of the most touted features of the Garmin Venu Sq was its battery life. I can totally attest to this – I only had to charge it once a week, and even then it was fully charged in the time it took me to watch half an episode of Survivors Season 19. My wife Erin loves her Apple Watch Series 3, but even she admitted she was impressed with the Venu Sq's battery, which allows for more continuous use and allows you to forego choosing which activity to skip – sleep? a workout? Downtime? – When you need to recharge. To be fair, I didn't hike the watch or do any lengthy outdoor activities where switching to GPS mode would drain your battery faster. However, Garmin claims the watch can last for 14 hours in GPS mode, which is longer at the moment than any hike I'll be planning in the near future.
If the Venu Sq had one downside during my weeklong testing, it was that it didn't act as a seamless extension of my iPhone in terms of texts and calls like Erin's Apple Watch does. When it comes to phone notifications, Android users find it easier to sync with a Garmin smartwatch than an Apple user like me. That being said, one of the main reasons I've waited so long to try out wearables is because I wasn't sure I wanted another device that pestered me with notifications all day. Phone notifications fall pretty low on the list of my smartwatch criteria, but if that's important to you, consider working for Apple or Samsung.
Aside from a barometer and gyro sensors, plus animated workouts and live watch faces, the Venu Sq largely mirrors the capabilities of its more expensive older brother, the Venu. Seasoned outdoor folks engaged in altitude-based workouts may feel like they're missing out on the Venu Sq, but I don't mind the lack of those sensors.
After a week with my first smartwatch, I feel like I'm just scratching the surface when it comes to its capabilities. If you're looking for a multi-faceted, GPS-enabled smartwatch that offers value on a medium budget, I would highly recommend the Venu Sq Music Edition.
This content is created and maintained by a third party and imported onto this page so that users can provide their email addresses. You may find more information on this and similar content at piano.io
Source link