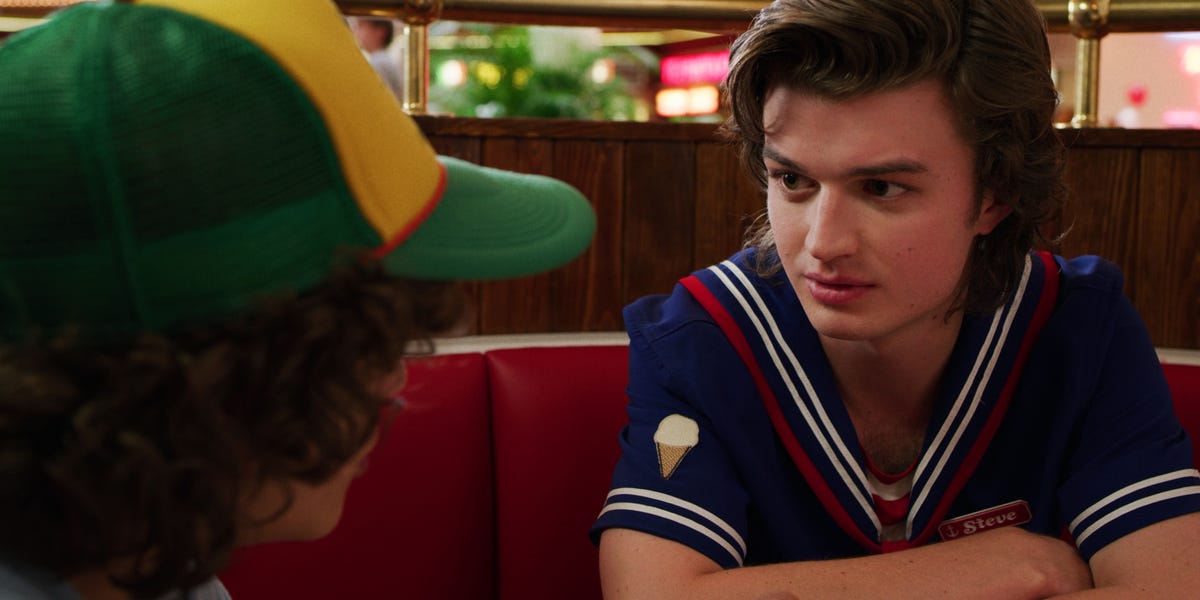 Warning: This post contains spoilers for the third season of Stranger Things. Stop reading NOW (!!!) if you have not seen it yet.
• Steve Harrington is again the best character in Stranger Things.
• It's a testament to how far he has come since the first season.
• The Duffer Brothers and Joe Keery both earn significant recognition.

---
The term "breakout character" refers to two names: Arthur "The Fonz" Fonzarelli from the longtime sitcom "Happy Days" (1
9459004) and Steve Stifler, the fratboy idiot from the film series
American Pie
This week was her original chapter 20. With the release of
Stranger Things 3,
it's time to think about Steve Harrington in the same company.
The TV Tropes website defines a "breakout character" as "a side character that they created for a show that is suddenly becoming much more popular than the other members of the cast". With The Fonz this meant more Happy Days Screen Time, especially as mainstays like Ron Howard left the program. Stifler, meanwhile, played a bigger role with each subsequent film – the actor Seann William Scott was in no way billed compared to the first film, but with the third film, American Wedding, he finished second, and the The entire plot of the film was essentially about his indecent, vulgar character, which the film series had turned into a decent guy.
In both cases, there is an argument that these characters worked better in smaller doses. As Steve Harrington's character evolves and expands on his own role – he was repeated in the first season, before he was cast in the second and third seasons to the main cast – his character continues to work in Stranger Things better and better. Whether it's his real friendship with the younger kids or the thrill of watching a former Scotsman lose his "beloved kid" mojo, Steve has been a steady climax for two consecutive seasons. The actor Joe Keery has clearly dealt with something special in his portrayal of the Freak-turned-Geek, and The Duffer Brothers understand very well what happened.
Consider Steve's entrance in the first episode of Stranger Things 3. Mike, Lucas, and Will open the squadron that passes through the mall, and they enter the ice cream shop Scoops Ahoy. "Is he here?" They ask. We know who they are asking, but Robin is stupid, at least initially. "Dingus, your children are here!" she announces as Steve comes out of a sliding door into the back room of the salon. "Again? Really?" he asks. It is undoubtedly a hero performance and it feels deserved. Stranger Things Steve Harrington "title =" Stranger Things Steve Harrington "class =" lazyimage lazyload "data-src =" https://hips.hearstapps.com/hmg-prod.s3.amazonaws.com/images/screen -shot-2019-07-10-at-4-23-57-pm-1562790271.png? crop = 0.675xw: 1.00xh; 0.165xw, 0 & resize = 480: * "/>