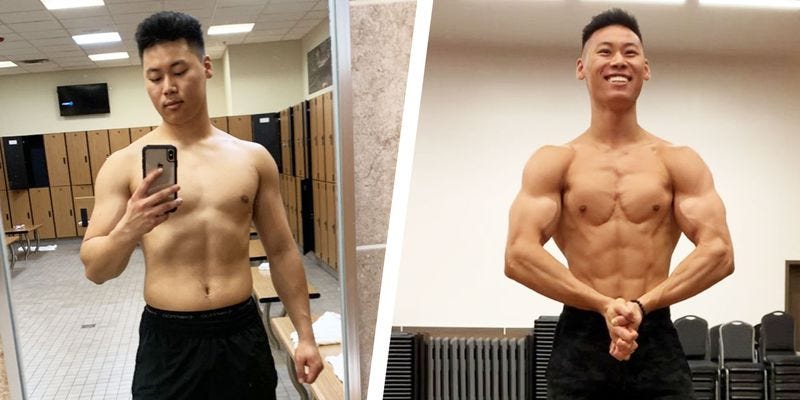 Several months after a breach had brought Brandon Lim's bodybuilding career to a halt – a broken wrist trying to achieve maximum purity and jerkiness – Lim glanced at himself in the mirror and had to admit a harsh truth: He would let go. "I saw this bloated, heavy stomach sticking out so far," he says. "That's where I knew I wanted to change my lifestyle." 21-year-old Lim, a student and personal trainer based in Northern Virginia, says he's been involved in weight bouts in the past. Back then, when he had taken part in competitions – and won – he had risen to almost 225 pounds. "Besides, my ego told me that I look awesome and that a" real man "should weigh at least 200 pounds," he says.
Lim knew he had to let go of that mindset, and despite his injury, he was still determined to achieve a slender, torn physique, as he did with the competitive bodybuilders he admired. Lim, however, knew he could not do it to achieve that goal. "I spent hours researching to learn how to properly break down fat and told myself that I would do everything right with science," he says. "After many, many hours of learning, I finally sat down, calculated my macros and made a plan to change my life." So Lim came in the best shape of his life.
You mentioned that most of the weight gain during an injury took place after a bodybuilding competition. What has contributed most?
My diet was probably the biggest factor ̵
1; during that time I was still active, taking part in two competitions and winning them, so body composition not topping my list was my priorities. I was more focused on muscle power. I felt I had to keep eating – even force-feeding – to stay as strong as possible and continue to compete in my weight class or possibly move up to the super heavyweights.
How was that for you? From the physical high state to the relatively sedentary state?
After learning what it means to be overweight, I have to say it was much harder to keep up with everyday life than it is today. I weighed my worst in my present age. At 225, it was so hard for me to fall asleep and wake up because I just felt uncomfortable about carrying unnecessary weight with me. For example, my eyes would strain and every time I bent down to tie my shoes, liquid would leak into my nasal cavity. Any type of cardiovascular activity would be a death sentence for me, as I only had the ability to do low-intensity exercises.
What were the biggest changes you made to get back into shape?
The very first change I made was to go into my kitchen and throw away all the highly processed, sugary, empty calorie foods that I had and enjoyed. Although extreme, I knew that I could not be surrounded by temptations. I went out and bought all the natural, raw ingredients like whole oats, salads, chicken, the usual drills.
It was definitely hard to learn how to love the new lifestyle I was trying to live, especially when it came to eating my macros. Along with this diet, I trained six days a week, with Sunday being my special rest day and "detox" in the sauna.
How long did it take you to lose weight?
It took me a good six months and lost almost 50 pounds, it's hard to remember how much The better you feel every day since we all wake up in our own body, but when I compare my health and my general athleticism from 6 months ago, the difference is enormous, the best way I can describe the difference comprehensibly, if I imagine that you run with a 30-pound weight vest and 10-pound dumbbells in each hand and then drop in fractions of a second the total weight you carry on. The oxygen rush, the feeling of lightness and the released physical stress They eventually pull themselves through your system and it feels pretty amazing.
What were some of the other changes you noticed?
There were definitely secondary pros parts that resulted from my weight loss. One of the bigger advantages was this newfound respect and the trust that I found in myself. I never thought that I would end up in the position I am in today because I felt too comfortable in life before. Only when I left this comfort zone did I begin to make positive changes. Nowadays, I'm so much more open to hearing new ideas, trying out new self-improvement experiences, and really having a passion for integrating my daily activities into my overall well-being.
I still plan to compete one day and will work hard to achieve that goal. I continue my studies in terms of fitness, wellness and nutrition as the learning process will never stop. I will do my best to return and help those who seek self-improvement, whether fitness or not.
What advice do you have for people just starting out?
My advice to everyone – whether you're new to the gym or an experienced powerlifter – is that you really have to imagine which goal you want to achieve. It is imperative that you can imagine which unique goal you have. I say that because everyone in the world has bigger muscles, wants to lose belly fat, and wants to be stronger. It's easy to wish and say what you want – that's what I have done most of my life. Only when you sit down and really see a bigger future will you be motivated and inspired enough to embark on your personal journey. Without a vision, your chances of success on your path are much harder to achieve. Really believe in you and your vision.
Source link