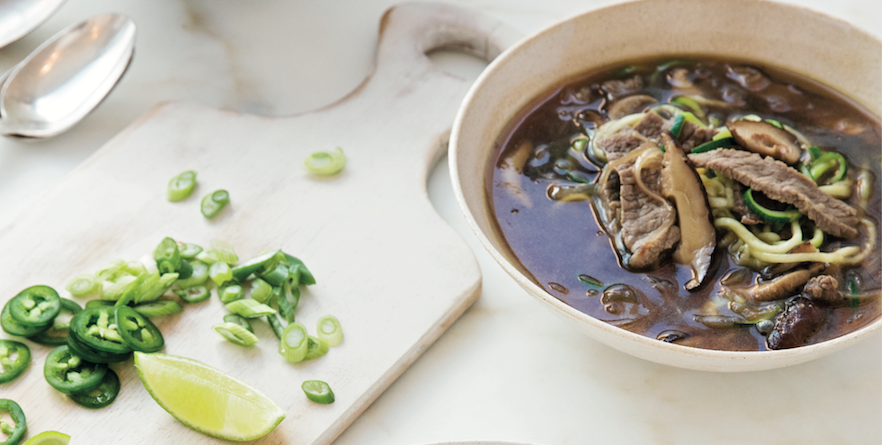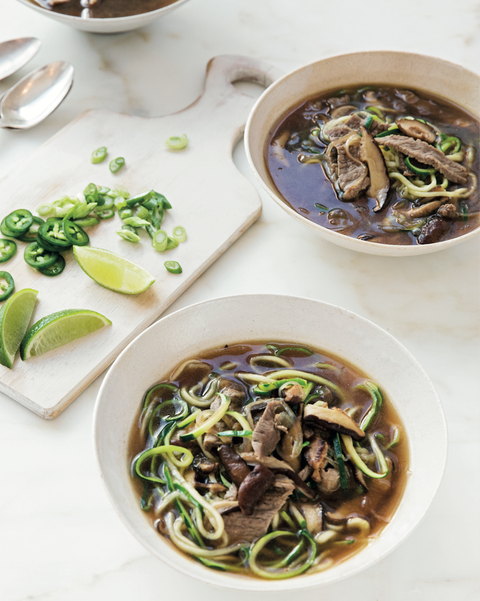 Houghton Mifflin Harcourt

4

portions


Preparation time:

0

hours

fifteen

min


Cooking time:

0

hours

10

min


Total time:

0

hours

25

min


6
oz.

fresh shitake mushrooms
2
tsp.

chopped fresh ginger
2
tsp.

Red boat fish sauce
12
oz.

Boneless beef tenderloin
fresh thai basil leaves (optional)
fresh coriander (optional)
green jalapenos sliced ​​(optional)
In a large saucepan Heat coconut oil over medium heat. Add the onion and cook with stirring until it softens, about 2 minutes. Add the mushrooms and cook with stirring for about 3 minutes.
Add garlic and ginger and stir with stirring for about 30 seconds until the scent smells. Add broth, coconut aminos, fish sauce and salt.
Bring to a boil; Reduce the heat to medium and cook uncovered for 5 minutes.
In the meantime, cut the courgettes lengthwise into long, thin strands with a spiral cutter or julienne peeler (or use an ordinary vegetable peeler to cut the length of zucchini into thin strips).
Add the zucchini noodles to the boiling soup and cook until tender, about 2 minutes.
Add the sliced ​​steak and cook for 30 to 60 seconds until cooked. Soak the soup in bowls and serve with the toppings of your choice.
TIP: Freeze the steak for 15 minutes to facilitate slicing.
Excerpts from THE WHOLE30 COOKBOOK © 2016 by Melissa Hartwig. Reproduced with permission from Houghton Mifflin Harcourt. All rights reserved.
. Advertising – read below
Source link