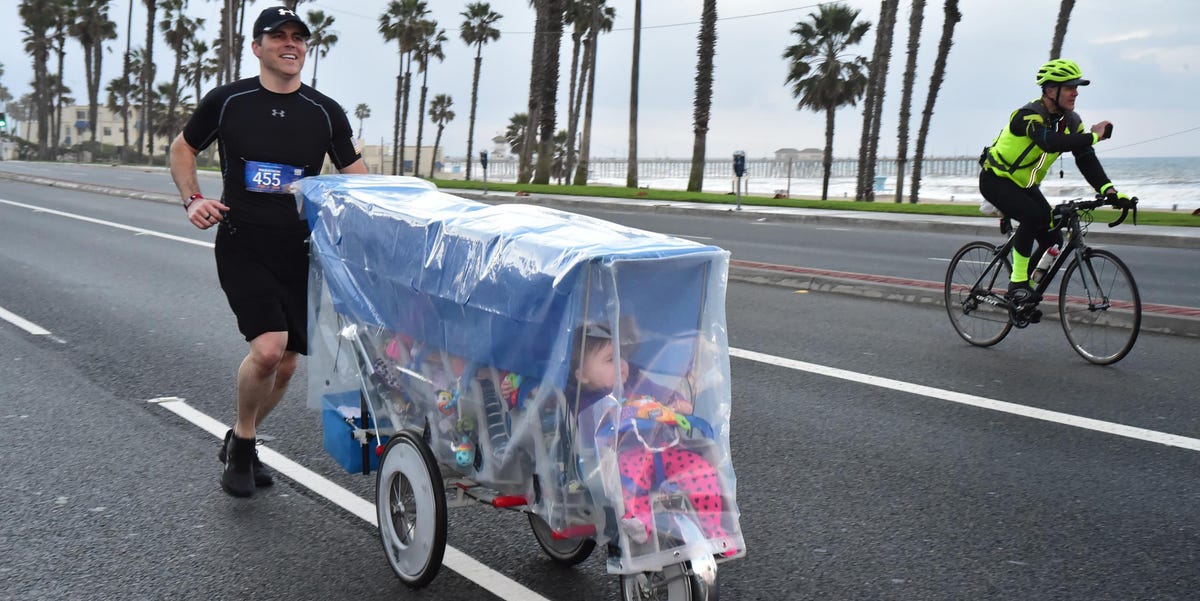 If you've been carrying a stroller with a baby while running, you know how awkward and difficult it can be. You can not swing both arms at the same time, your stride is sometimes shortened, and no matter how "light" the pack of the pram promised is, it's an animal that pulls up hills.
Now imagine that you do not have to push one, but five children in one – and for 26.2 miles. This will give you an idea of ​​what happened to 37-year-old Chad Kempel on the 3rd of February at the Surf City Marathon in Huntington Beach, California.
Kempel is the father of seven children, including one-year-old quintet children. He pushed the five small children in a covered pram to the finish line.
"I never expected to push anyone into a marathon," said Mountain American, California-born American Runner's World . , "The hills were particularly hard. But when I thought about what the babies had been through in the last year ̵
1; all those feeding and breathing tubes – it gave me the strength to get through to the finish and then a lot more. Everything is possible. "
Kempel did not just make 26.2 miles in Surf City Stop: After crossing the line at 5:45:04, he pushed the stroller a little more than a mile more to a total of 27.3 miles for the day.
The number had a special meaning for the family: Amy had worn the Quintuplets 27 weeks and three days before birth on January 11, 2018. When the babies were born, they each weighed only three pounds and had to be oxygenated immediately and fed with feeding tubes to survive the fragile health conditions The Quintuplets required a 73-day stay in the ICU.
A long, frightening pregnancy, and even after her birth we could not rest, "Kempel said," We finally got her take home, but then our schedules are just busier. It was a long, crazy year between parenting and work and finding time to run.
Find a Respite While Walking
Running was a mental and physical way out for Kempel since he was in high school when he started earning miles Get fit for wrestling. As an adult, he extended his training runs and was pleased with how the pavement on his walkway calmed down. "It's my favorite antidepressant," he said. In 2009, at the age of 27, he tackled his first San Francisco Marathon and finished the race 3:43:15.
"After that, I was hungry for a qualifying time in Boston," he said. "I knew I had to cover a path, but I was hunting."
A few years later, Kempels life took a dramatic turn. In 2013, he and Amy discovered that they were expecting twins. Their joy, however, was tragically short-lived as the babies were born 18 weeks earlier and died.
"It was devastating," Kempel said. Earlier this June, he had completed his fastest time (3:14:25) at the Newport Marathon in Oregon. But after losing the twins, the miles no longer maintained their attractiveness.
"I hung my shoes," he said. "I just did not want to run anymore."
Soon, however, Kempel realized that running could help him survive the low days. By the time his eldest daughter, Savannah, was born in 2014, he began to train again with marathons and race. Often he would earn miles every morning before he and Amy had breakfast with their baby. He continued this routine when she greeted her second girl, Avery, two years later. When the quintuplets arrived last year, the couple's days naturally became hectic.
To train for the Surf City Marathon, Kempel woke up every morning at 4 am, put on a spotlight and reflective gear, and left the house at 4:30 to walk.
Normally, he spent about an hour on the road, stopping at nearby routes if he needed to help Amy with early risers.
"I did not want my education to be a burden for them," he said. "She is overwhelmed as it is."
When their seven children awoke at 6:30 am, Kempel and Amy split and conquered, one to dress the quintuplets and the other to prepare the older girls. While Amy brought Savannah and Avery to preschool, Kempel commuted an hour to work.
At 16:00, he picked up his daughters and met the rest of his family at home. After putting the babies in their five cribs at six o'clock in the morning, Kempel sometimes went to a second run.
"I always have to adapt when I have time," he said.
While he was spending enough miles refueling to be prepared for Surf City, Kempel did not spend much time rehearsing an important thing: walking with a stroller. It just was not practical because he covered most of his miles in the cool morning hours. "I did not want the girls to catch a cold," he explained.
A few weeks before the race, he completed a test run and pushed the babies in the five-headed stroller that he had bought from eBay for five miles. He said it was not too challenging – luckily the babies slept all the way – but he did not know how far 22 miles would go.
Pushing through the Wall
When the race day came, any nervousness Kempel felt was replaced by adrenaline. At the start of the Surf City, he and Amy fed the five girls in the stroller, hoping that they would be full to their destination.
Source link