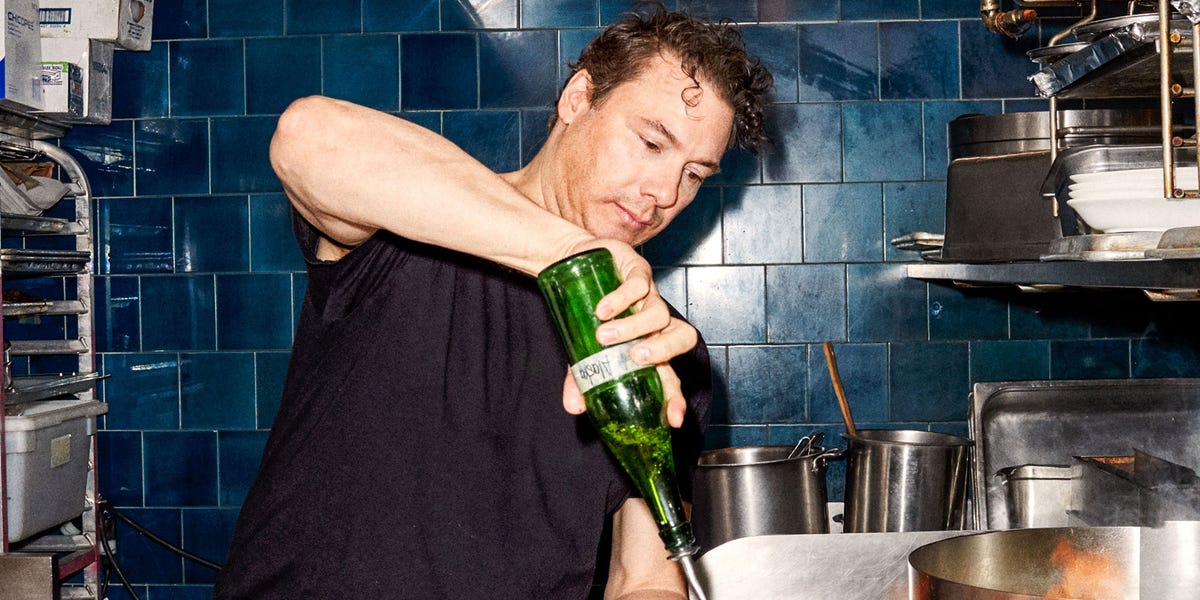 There he is – the former head chef of the revolutionary Union Pacific in New York, the cookbook author, the TV star and now for the first time in 25 years again a line chef.
Rocco DiSpirito cooks me dinner at the Standard Grill in Manhattan and as the first in the kitchen stands a strangely delicious cracker (Rocco's Game Changing Toast) full of seeds and salmon.
There's a mountain of raw seafood: oysters, pieces of tuna tossed with golden osetra caviar, and a tiny bay laurel shell in a bowl of plain-tomato water. There are three courses of marinated, skewered, charcoal grilled things like tiny squid and outside.
We could have stopped right there, then a risotto full of truffles and the reddest prawn I've ever seen, followed by short ribs Exactly three days in a plastic bag Poached, then smoked and served us, inside still bright red, tender, but with the taste of grilled brisket I take the ribcage and some leftovers home to cook beans, it's so good.
It was one of the most notable meals I've had lately, which is all the more remarkable when my first meeting with DiSpirito was so unremarkable a few days earlier.
I usually attended this one hour before dinner because I thought we were We would chat, maybe cook together a bit, and then chat a bit while watching him wash his dishes.
But honestly it was weird. We talked and I recorded, but it seemed a bit suspicious, and I did not get much more than the press release on why he wants to cook healthy food.
DiSpirito seemed to downplay his incredible, varied game, and sometimes a curious career.
"I think people are trying to find a way to make my return to a bigger story," he told me. "I had a restaurant, I made TV, I wrote books. Now I'm going to a restaurant again. It's a pretty simple math, right? "
Maybe it's a simple math for DiSpirito.
For the rest of us – anyone who has a career behind them – it's more of an advanced math. Why should someone who had tremendous successes and had already taken good care of his retirement, returning to a sweat and effort night after night? [image] image = "image" class = "Lazyimage Lazyload" data-src = "https: //hips.hearstapps. com / hmg-prod.s3.amazonaws.com / images / image-2-1562781784.png? resize = 480: * "/>