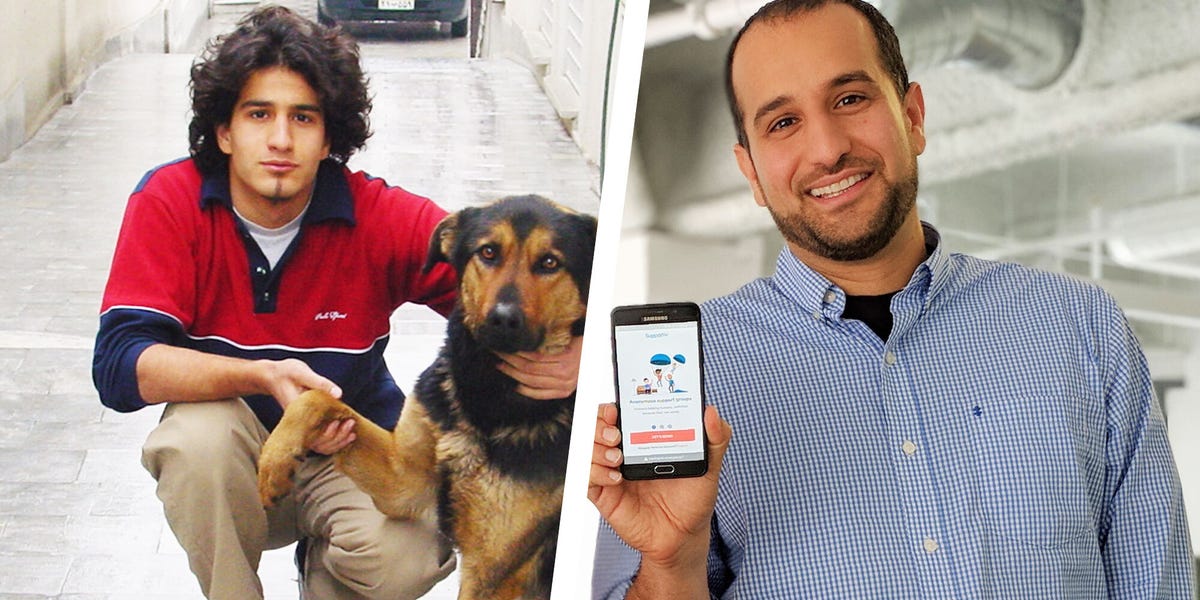 May is the month of mental health awareness. It's time to talk. Thirty-five percent of men are treated for mental illness, but this number can be low because too many men do not seek help. This is exactly why we put the spotlight on men who make men open to mental health in a provocative, engaging and sometimes weird way. Next comes Pouria Mojabi, co-founder of Supportiv, to help people talk about their feelings. Here Mojabi shares his own struggle, which ultimately contributed to the creation of a supportive. This interview has been edited and condensed for clarity.
I was born four years after a revolution in Iran that instilled new values ​​and ideologies in the country. As a result, the Iranian culture that I learned from my parents focused on "good thoughts, good words, and good deeds". I often had the feeling that if my feeling was not "good" I shouldn't mention it.
"Men don't show emotions." "You are a man, you cannot be emotional." "Don't be maintenance-intensive." These were some of the things my father said to me. This expectation of stoicism affected how I responded to my own feelings and struggles.
In the end, I thought that feelings were just masked weaknesses. And if I were to express what I was going through – let's say about a test that I didn't do well – my father would say, "If you were well prepared, you wouldn't have to worry about anything" or "my exams always existed "I and my parents never had time for me. "So I ignored any feelings of stress or sadness I had.
But suppressing my feelings usually came back as an intense annoyance at random things. I remember when I was 23 my mother had a bicycle accident and injured her leg. Mine immediate reaction was to get angry with her, I was afraid that she would be hurt, but I was unable to express it.
Another example: when I was 27 and working as a software engineer, One of my managers made fun of stereotypes and it made me uncomfortable and angry. I forced myself to ignore them and go back to work.
I didn't sleep that night. I was for the next two days furious, but still found a way to ignore her and distract me from work. On the fourth day I woke up, looked in the mirror and said to myself: Pouria, something is wrong Help, you can't work anymore.
My openness to mental health only began when I lost a friend to depression about five to six years later. I was 33 and it was really hard to deal with. There was a lot of overlap between my friend and me because I didn't process or express emotions. When he left I wondered if I would end up like him.
We were friends for six years after meeting up with a mutual friend in San Jose. I remember that he looked so happy on social media and always posted pictures of his girlfriend and pet. It was impossible to guess that he was suffering. After his death, I noticed that emotional health was a bigger issue than most of us were willing to talk about – if we talked about it, things could be different.
A week after my friend's death, I researched available resources that could have helped him. I found Meetup.com and a simple search for anxiety / depression connected me to some groups that occasionally met in the Bay Area where I lived.
Witnesses to the openness, understanding and lack of judgment at these meetings really impressed me. I had never seen people who expressed themselves so authentically, nor did I open myself that way. I felt remarkably better after my first meeting and at several events I saw that others were also making great strides in their mental wellbeing. It really helped to see how others had to deal with difficult emotional battles and didn't try to look perfect.
But although these meetings were helpful, I saw two main obstacles: they were not available when people needed them, and for many people, commuting was long involved.
Over the next five to six months, I continued to explore the health room for emotional and mental wellbeing resources. I was shocked at how little except therapy was available. Of course, therapy is an available option for some, but the stigma, cost, and intimidating process can make it difficult.
Two years after the death of my girlfriend, I was introduced to my current business partner Helena Plater-Zyberk. We had a long conversation about what was missing in the mental health area, and at the end of the meeting we came up with a new company that became a supportive.
Supportiv offers anonymous peer support chats and hyper-personalized resources. It uses a simple, non-stigmatizing question – "What is your struggle?" – to connect users who want to talk about similar topics.
That could be The company won SXSW's pitch competition for social and cultural impact in 2019. In two years, we passed 300,000 users with more than five million conversations. This is the loss of a relationship, coping with fear, or bouncing back after something has been messed up the platform.
The chats that take place have similar advantages to personal self-help groups, but with important differences: Nobody knows your identity and you can talk to understanding people around the clock.
We chose in small groups (max. Seven people) to remove prejudices or judgments that can occur through voice or video. And because anonymity can create trolls, we have consulted professional moderators to enable positive peer-to-peer discussions.
And we did it with little to no entry barriers, making it more accessible to more people than traditional therapies. (Supportiv is free for 24 hours, then costs 20 cents per minute.)
Supportiv also attaches importance to making traditionally "female" mental health issues such as self-care accessible to men (read our "Self Care Checklist" for male men "), which is important to us, since 57 percent of the supportive users are men.
[Editors note: Pouria has offered Men's Health readers the chance to try Supportiv for a month for free by entering the code MensHealth on the payment screen.]
This content is created and maintained by third parties and imported to this page to help users. Provide their email addresses. You may find more information on this and similar content at piano.io
Source link