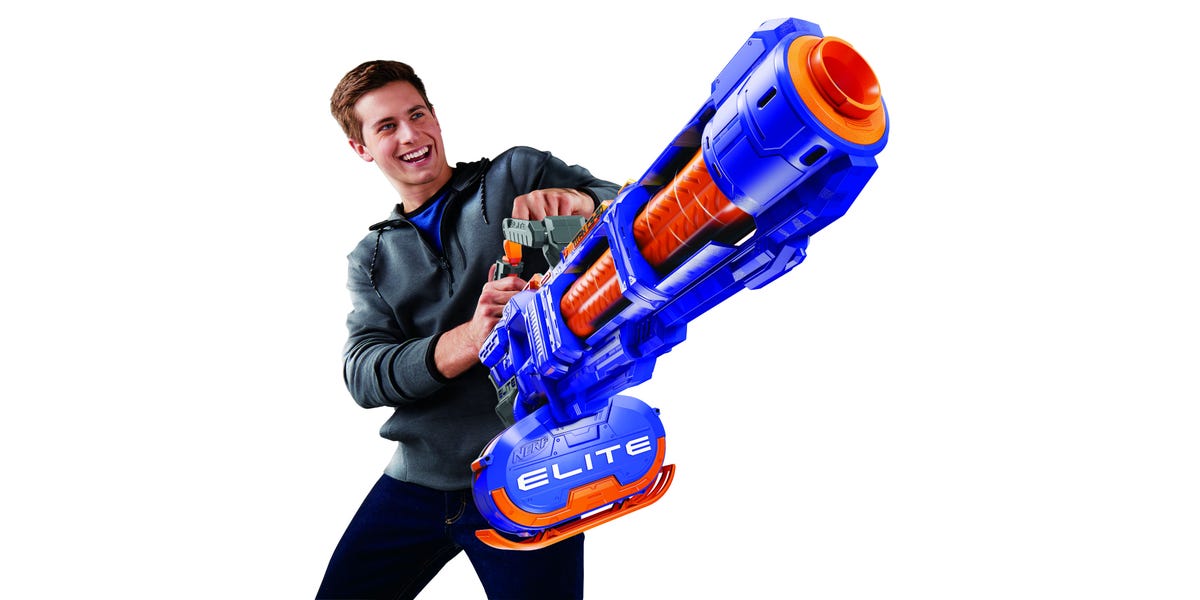 In the run-up to this year's Toy Fair Hasbro Popular Mechanics has given an exclusive first look at four of its emerging foam fins. Whether you're looking for a powerful and practical Rival blaster or something more straight-lined, you'll have some great ways to get off the pike.
Of the four, the N-Strike Elite Titan CS-50 is the most extreme. With a 50-dart drum (and 50 darts to fill), this fully automatic flywheel-powered monster has a revolving drum that makes it even more threatening. The price you pay, apart from the price of $ 100, requires four powerful D batteries to power the thing. Therefore, you probably need the included shoulder strap if you want to carry this bad boy into battle.
On the smaller side, the Perses MXIX-5000 is the newest member of the Rival series with a blasting speed of eight rounds per second and a 50-round funnel that lets you put on a good fire long while. The Perses is a bit more manageable than the 1
00-round Nemesis and the 200-round Prometheus. It comes with a built-in battery and costs $ 100 – the same price as the Nemesis – but with the advantage of a more maneuverable, manoeuvrable frame. This is handy if you do not need as much ammunition as a huge 100-shot funnel offers.
There are also new additions to the gigantic Dart Mega line and the cartoon zombie strike collection. The huge and aptly named Megalodon Blaster is built around a huge exposed drum containing 20 red nerf mega-darts, with slam-fire abilities that allow you to hold down the trigger and turn the handle around every 20 in firing fast episode.
The Zombie Strike Revoltinator is a flywheeled auto truck with an 18-round clip and shocking electric lights and sounds that match its fictional design as an overloaded electric weapon (containing no actual shock performance). The Megalodon costs $ 40 and the Revoltinator $ 50.
Everyone (and we're sure) will hit the market this fall, so keep your eyes open.
Source link