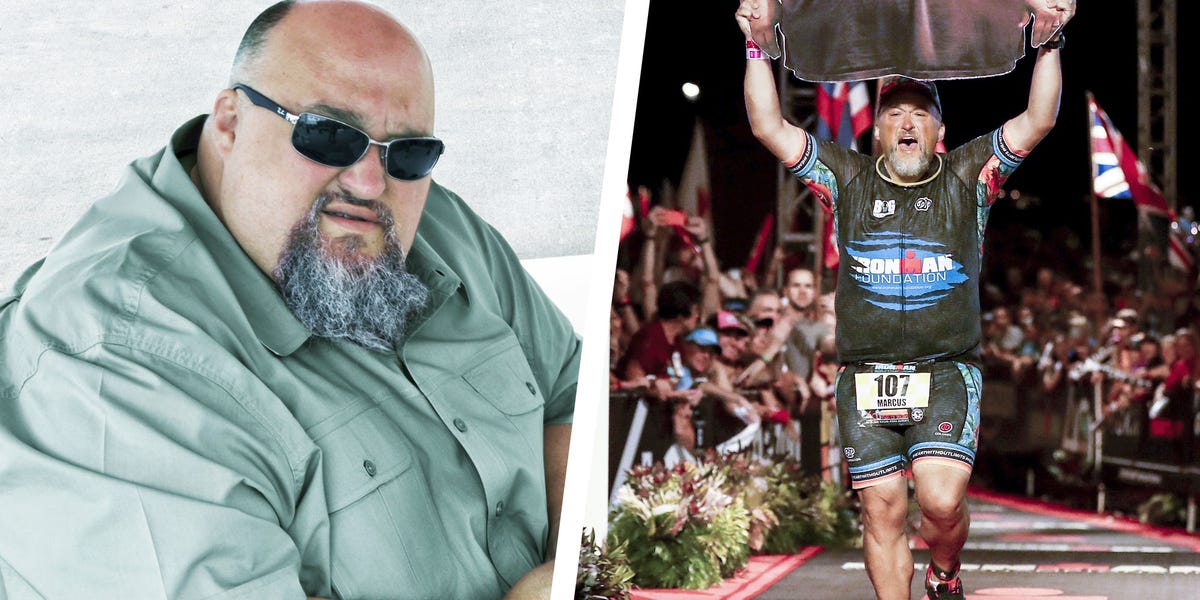 Courtesy; Al Bello / Getty Images for IRONMAN
46-year-old Marcus Cook scored a weight loss of 279 pounds and finished the toughest Ironman in the world. This is his story that I told Maria Masters.
---
As a kid, I had done that more in music than in sports, but I looked up to one of my elementary school teachers, he ran the Houston Marathon, and the day after I drove 100 laps in my church ning did not hang – me was always happy to be the funny guy as the fit guy.
When I founded an oil supply company called Big Boy Supplies, the slogan was "Gettin" Bigger. It was not because the business was expanding, but because it was me. I thought the name would help to make up for the surprise that people felt when I met. For example, "See, Big Boy himself is here!"
But then it was not funny.
My family went to Disney World in 2015, and at £ 489 I was too tall to walk around the park I rented a car. While my wife and four kids were on Space Mountain, I was sitting in my car, eating funnel cake. A man stepped next to me and said to his son, "This guy is too tall to walk, and he eats funeral cake." Until then, I thought I was just a normal father with a normal family. That was not normal.
My wake up call
A guy named Chuck Dalio bought my company and became my mentor. One day, he pulled me into his office and said, "I die because I have cancer, you die because it's your decision. I would give you everything. You have to promise to live for your family and your employees. "Several months later, in September 2015, I had a gastric bypass surgery.
Gastric bypass is not what you think
People tell me I've taken the easy path with gastric bypass. However, it is not easy to divert your guts. I have revised my entire diet. I started exercising and walked 20 minutes a day – er, night, because I did not want anyone to see me. It was not long before I had up to 40 minutes and then 2 miles. As soon as I could run, I signed up for a Half-Ironman [1.2-mile swim, 56-mile bike, 13.1-mile run]. I trained for about half a year. It was incredible to do what I never thought possible. Last October, I competed in the Ironman World Championships in Kona, Hawaii.
After he could help,
Three months after finishing the half Ironman hit hurricane Harvey. I went out with a buddy in his boat and we drove to a subdivision where a man was stranded with his family for two days. The water started creeping into his house and I asked him if he had any children. He said, yes, I have seven. I thought, 1945901, oh no, but I said, "It's going to be okay." He looked at my calf – my new Ironman M-dot tattoo – and said, "I know it's going to be that way. You are crazy. "I am so thankful that I lost weight and could help these people.
Source link