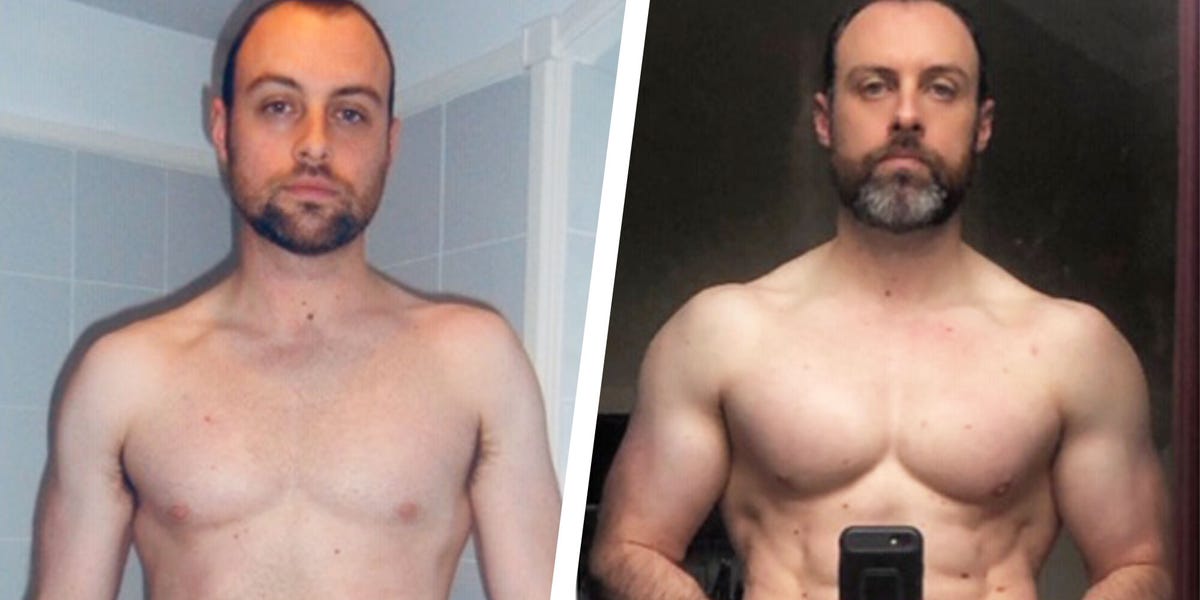 When Stephen Buckley became a twin girl father, he decided to get as fit as possible. "Having them has been a great motivation for me to keep working hard and to inspire them," said the 35-year-old from Edinburgh, Scotland, who is now a personal trainer.
It was a trip for Buckley. Although he had never been overweight – he was 6 & # 39; 1 & # 39; & # 39; and weighing 150 pounds – he decided to optimize his eating with the keto diet after seeing a documentary about it. It didn't work for him. By cutting carbohydrates, he lowered his weight to 145 and "I felt extremely sick and sluggish, passed out and hit my head on the sink."
He put keto behind him and focused on more sustainable revision of his diet . He balanced protein, carbohydrates and fats and started tracking his calories to make sure he was eating enough. He planned to produce a small excess of around 300 calories, exercise hard to build muscle, and return to a healthy weight.
He started calisthenics and dumbbell exercises in his house. He did pull-ups, pushups, shoulder presses, and curls three or four times a week. After about a year, he started to plateau.
So he went to a local gym and did exercises with free weight to push himself through the plateaus. He started with three full body days as he tried to increase the volume. Then he switched to an upper and lower gap. Now he's mainly doing a push-pull legs program. He is flexible, but does not praise one approach towards another. "I don't think it's important as long as you exercise properly and follow the right progressive overload in the gym," he says.
He opted for a diet with 80 percent unprocessed whole foods and "20 percent whatever I wanted". This simple rule made the routine easy to follow. He could stay consistent without worrying about too many rules.
In six months after following his plan, Buckley added £ 50 to his frame. He had also moved from working as a restaurant manager to a career in physical training, so he worked with a great trainer who taught him a lot about training and nutrition. And he knows he has pretty good genes. "I always had really good muscle symmetry," he says, "and found it fairly easy to grow my pectoral muscles, arms and shoulders while staying relatively slim." He never had to switch between bulking and cutting; He only trained hard for a long time. He plans to go ahead and see how far he can go with muscle and strength.
As someone with a proven, long-term method, he says that the key is to be consistent. And what works for one person may not work for everyone. Don't be afraid to find your own rhythm. "The best advice I can give someone who is just starting out," he says, "is to structure a routine that suits you."
Source link