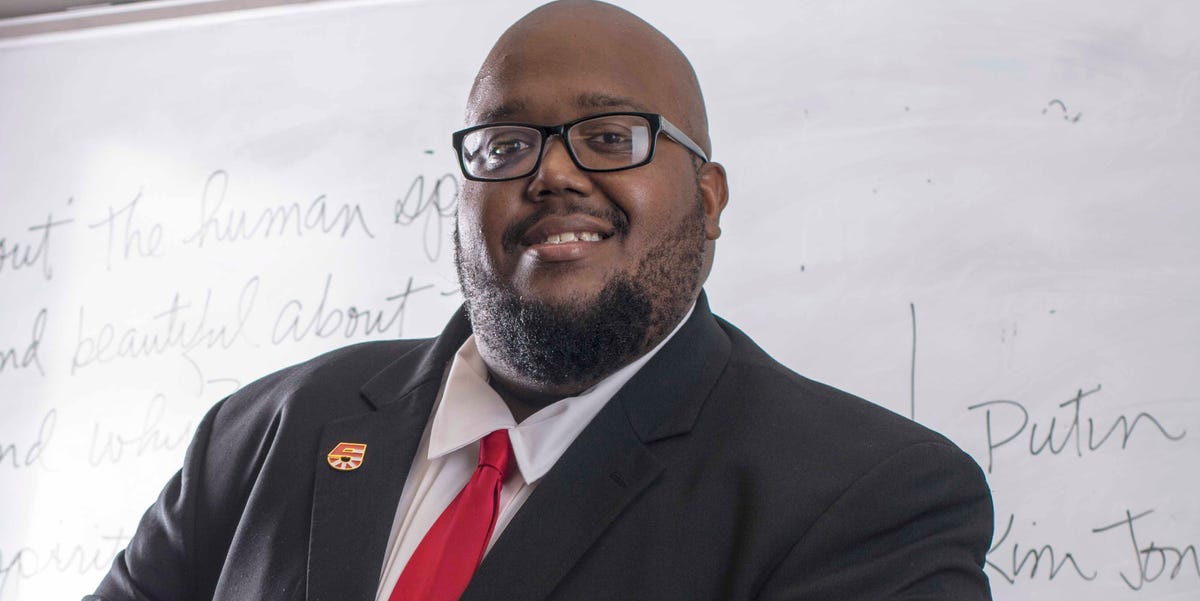 May is the month of mental health awareness. It's time to talk. Thirty-five percent of men are treated for mental illness, but this number can be low because too many men do not seek help. This is exactly why we put the spotlight on men who make men open to mental health in a provocative, engaging and sometimes weird way. First: Lorenzo Lewis, founder of the Confess project, which helps hairdressers talk about mental health issues with their customers. Here's Lewis's own story of anxiety and depression that led to his rebirth, so to speak. This interview has been edited and condensed for clarity.
---
MY STORY HAS two defining moments and both occurred in prison cells.
The first begins with how I was born. My mother was detained and had me in prison. After I was born, my mother was released from prison and my aunt was declared my legal guardian. I grew up with her, my uncle and my cousins ​​in their home in Little Rock, Arkansas. My father was in prison at the same time as my mother. I have never lived with one of my parents.
Then my father died when I was 1
0 years old. I was in third grade when it happened and I remember my teacher telling me to be a man and stop crying. It was humiliating.
I was taught that as a young African American, it was "weak" to show signs of emotion. As a result, I have bottled depression, anxiety, and anger.
But all this pressure could not last. I would publish it in the form of school outbreaks. I was finally taken to a behavioral health facility.
I felt a lack of love and self-esteem. It fueled my path through life and caused me to be held back in 7th grade (19459011). That also led me to gang life.
When I was 17, a friend of mine was jumped in a basketball game. I made the decision to retaliate – with a gun. So I went to the school of the child who had hurt my friend.
Before I could even use the weapon, the police intervened and there was a high-speed hunt. When the police finally caught up, I was charged with a crime and detained. It was a short period of time – no more than three months.
But when I arrived in custody, I was shaken, felt sick, and was more depressed than ever. I thought about my parents and it was a creepy feeling. This was my second crucial moment.
After I had completed my time, a judge gave me a second chance.
The judge considered my indictment an offense, not a crime conviction, and I was placed on probation. I took full advantage of it. I didn't look back. It allowed me to put my life back in order.
My first step was college. I am visiting the University of Arkansas at Pine Bluff in 2007. Going to college was a game changer because it made me be in a community of people who wanted to do better. In 2015 I also got a master's degree in public administration.
After graduating from high school, I had to seek help with my mental health problems. I realized that the childhood trauma had not disappeared and that I had to take aggressive responsibility.
Through therapeutic efforts, I was able to acquire new coping skills that I had learned and to build a positive support group around me.
From When I graduated from MPA, I was 28 years old and worked in the social sector in my hometown Little Rock. I had worked with and in intensive psychiatric hospitals and behavioral homes for children. There I noticed that there was a systemic problem with brewing.
For years I saw that the therapeutic and professional staff for the black men they served had no understanding of historical and racist trauma. [Ed note: Research shows that only four percent of psychologists in the United States are African American.] If they don't come from these communities and understand what it means to be black in America, they need to be educated.
This spurred the idea for my nonprofit The Confess Project. [19659010] "We are there together. You have support and I support you as your hairdresser."