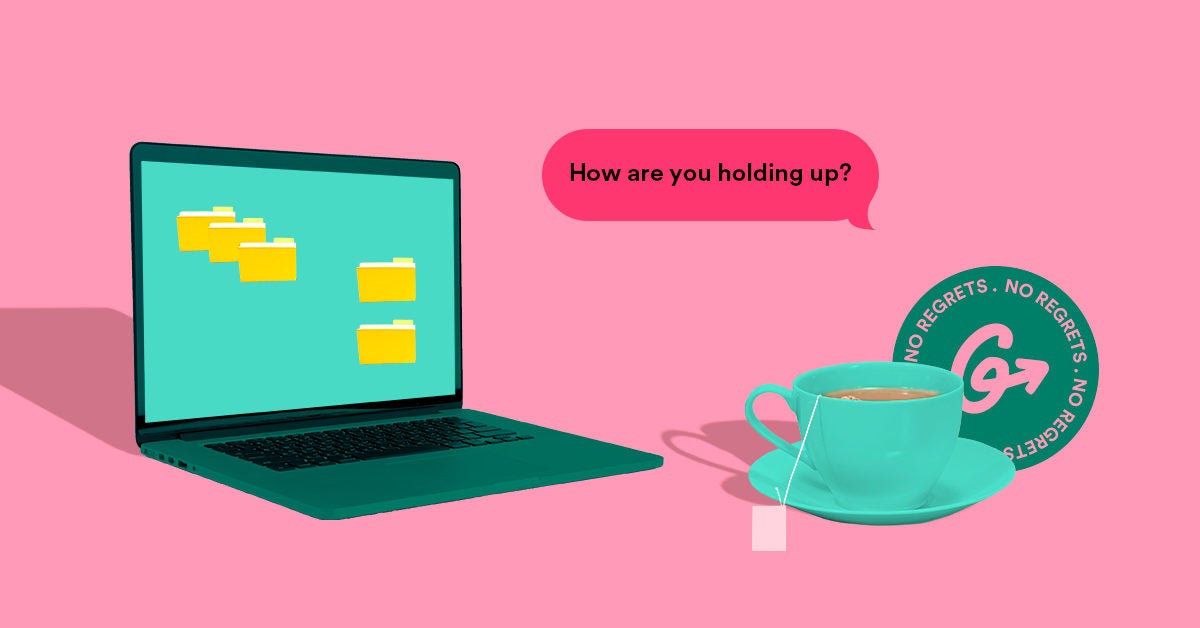 I still cannot get over the fact that the position we are in would have been unthinkable 2 months ago .
A few days after the physical distance, I made a choice. After sneaking around for 48 hours, getting caught in the scroll hole of social media and thinking about how COVID-19 would end up, I knew I had to change something …
My focus.
There is not much, if anything, we can control "out there". But we have so much power in the little corner of the world that we touch it – in our homes, in our families and above all in our thoughts.
Here are three things that you have complete control over, even if the future feels uncertain.
How do you spend this time? Think about it for a second. There will never be a time in your life with fewer distractions and #NoFOMO. It's not "Should I work on my side or go to the party?" There are no parties. Or vacation. Or even coffee dates. We are all in the same strange position.
Nobody misses anything. The good news is that you can fully concentrate on what you have in front of you. What could that be for you Read? Write? To organize?
I spend this time stacking 6 months of YouTube content so I don't have to stay inside once we're out and hugging. I am secretly pleased that I can also rock my Rent the Runway clothes. I think getting dressed gives me a boost! Make-up too, although nobody sees it except my dog ​​and my husband. Because I still see it!
I also learn Spanish for 20 to 30 minutes a day using my Duolingo app. Why not? It's free! And I'll impress my friends with it later … because later it will come.
I like to think: "I'm not stuck at home, I am safe at home ."
If you are healthy now, you are in a wonderful, happy position. Think about how incredible the human body is. While we will find a vaccine, the human body is currently the only vaccine. Only the intelligence of our cells can eradicate them.
You don't HAVE to make optimal use of this time with productivity. If you need a break, take it. But can this forced regrouping go hand in hand with a little gratitude? It is a serious time in the world right now. Can this lead to an attitude of gratitude for your body, your family and friends and even the opportunity to reset a little?
My gratitude for the people I love in my life made me turn to them all the time. I regularly enjoy FaceTime Pinot Grigios with my best friends. And in the past few weeks I've been connected to people I haven't spoken to in years. A simple "how are you now?" Text goes a long way. No matter how long you have not been in contact. Try it!
Physical (also social) distancing does not mean emotional distancing. And loneliness is a big cause of stress. An attitude of connection can be a healthy one. It benefits you and everyone else.
Hey, just because the news cycle and social media are running 24/7 doesn't mean you have to.
You want to be informed and responsible, yes. However, they don't have to be stuck to the news. That doesn't help anyone. Research has shown that stress can suppress the immune system, making us more susceptible to disease.
So why not turn down the noise from the outside world every day and take a few "breaks"? Limit your message recording and social media scrolling to one hour a day ̵
1; that's still a lot! Go for a walk if allowed near you. Enjoy your coffee or tea in the morning on the sofa or on your terrace with classical music. Eliminating is as helpful as adding. In a "go, go, go" world, I even enjoy the boredom that I experience in some moments.
So don't forget to focus on what will be important in the long run. Practice some appreciation in the midst of fear. Stay connected in a healthy way. And no matter what happens, be friendly and responsible towards others.
Susie Moore is the columnist for Greatist. Pre-order your new book stop checking your preferences here !
Source link