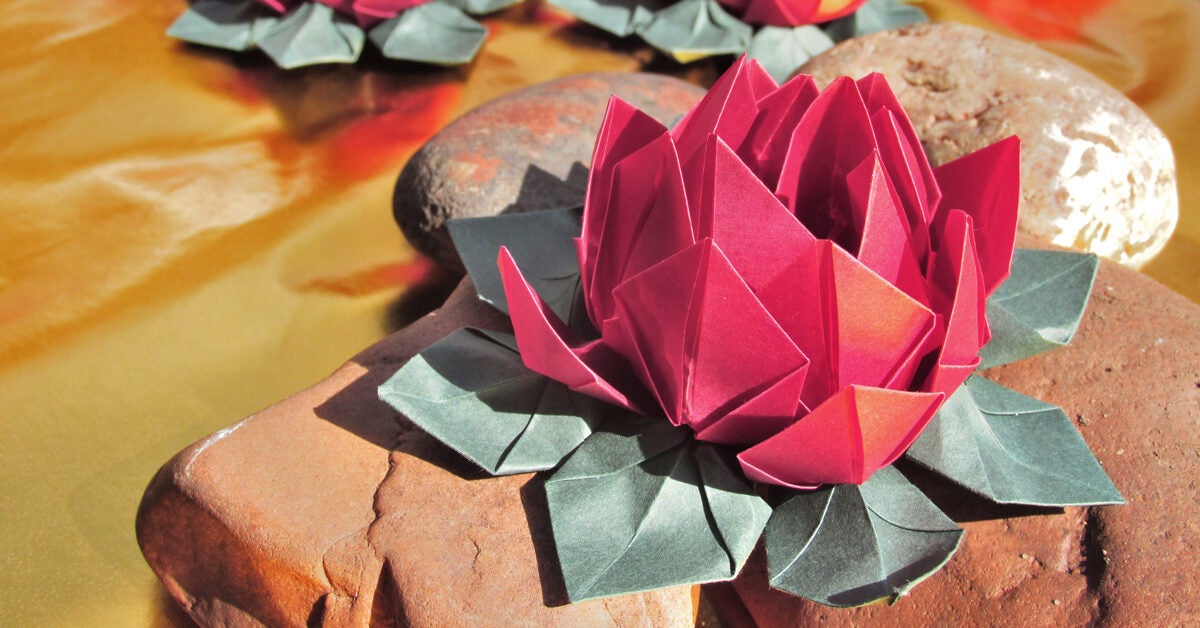 When the UK first got banned, I had just started a new self-care subscription from a mental health charity. Every month a surprise package was delivered to my door that encourages relaxation, creativity and reflection. I was looking forward to the little treats: soy wax candles, a lavender rollerball, a bookmark with a satisfyingly fluffy bobble. It couldn't have come at a better time.
My newest care box contains a small pile of marbled paper. "This month's box is all about origami," was the swirling welcome note. Cool, I thought to myself. After work that evening, I stood with a cup of tea and the step-by-step instructions to enter the quiet zone. That was until I started.
The first assignment, a cute paper box, went relatively smoothly, even though the lid got too small. Undoubtedly a beginner̵
7;s mistake. But when I got on the crane, a supposedly uncomplicated brand, I took three steps and got completely confused. My points and edges were all mixed up, and what did "Undo Wrinkles" mean? With a frown furrowed, I grabbed a fresh square of paper and continued to the lotus flower. Needless to say, the only thing that blossomed was my sense of frustration. Finally, I admitted defeat.
My unfortunate crafting project revealed two things: I was rubbish at origami, and I hated the feeling of being a complete newbie. I wanted to speed through the steps without any problems and be able to show a collection of crunchy folded desk buddies.
The key to lifting my feelings of inadequacy was to focus on my everyday life with renewed vigor: reading two chapters of my book before work, listening to podcasts on my lunch break, and sitting on the weekends with a pot of flour and water paste to the scrapbook. In contrast to my annoying origami, these activities could be completed with "success".
Even so, my diligent efforts couldn't suppress the uncomfortable feeling that I still didn't quite enough – and I'm not the only one who feels that way.
Katrin, 31, a partnership manager for a members' club in London, tells me that she believes the loss of routine caused an uproar among her colleagues. "I think everyone is feeling a little driving at the moment, regardless of seniority, because we can't complete any of the projects [from] before locking. "
Worryingly, she also noticed that this insecurity has fueled some unhealthy working conditions such as digital presenterism.
"I feel like my fear has gotten a lot worse. I feel pressured to be available online anytime in case someone sends me a message. I've also noticed that some people take on tasks that are beyond their scope, like trying to get brownie points. "
Michelle Scott, psychotherapist at The Recovery Center, said, "Part of the competition may have been down to a desperate need to create a sense of power and not feel the panic of what we couldn't control."
"When Lockdown first started, everyone paid lip service to the idea that it was perfectly okay to have days off and work at your own pace," said Sadie, 28, London-based marketing director. "But I literally don't know anyone who admits they feel below average. People still work crazy hours and besides, they do all these extra-curricular things like virtual book clubs that give me FOMO. I feel guilty about just watching TV at the end of the day. "
The pressure Sadie describes is what I unofficially refer to as the "Lockdown Bounce Back". It is a phenomenon that lacks the same level of self-esteem that Erin Griffith observes in her article, "Why Do Young People Pretend They Love Work?" Hustlers, she writes, "see a grim system and understand that success in it requires total, shameless buy-in." The same cannot be said about jumping back the lock: an insidious permutation of the previous one that bypasses the line between fun and productivity.
Over on Instagram, that philosophy reveals a darker side. I was vaguely aware that half of my frustration with crafting was related to relentless productivity; But everywhere I turned I was bombarded with messages encouraging me to "positively influence" the lockdown by doing, baking, and creating. My timeline, filled with intricately decorated focaccia, decoupage, and long subtitles, belied the complexity of starting from scratch.
But just as Edward eats his way through the enchanted Turkish delight, what seems tempting at first glance can still make us mightily sick. If we're just tinkering to keep busy we're still buying into an exploitative system. one that prioritizes our productivity over our health. When busyness defines our leisure time, it can quickly corrupt other areas of our lives as well.
"The desire to regain control through action is a natural instinct for survival," says Michelle. "It feels good to be busy and productive as it helps us not feel the threat of what was happening in the outside world." This may have proven to be a useful coping mechanism in the short term, she explains, staying busy to distract from troubled emotions is neither healthy nor sustainable.
According to a recent survey, anxiety levels have increased, with nearly 50 percent of people reporting high levels of anxiety and higher levels of anxiety at the start of lockdown than they did in late 2019.
Another study found that around 80 percent of British workers who work from home feel that the lockdown has had a negative impact on their mental health.
The U.S. is also facing a national mental health crisis: A survey by the Kaiser Family Foundation found that nearly half of Americans believe the pandemic is damaging their mental health while texting messages to the federal government-run emergency services Hotline sent to Substance Abuse and Mental Health Authority rose more than 1,000 percent in April.
Granted, nobody likes to feel overwhelmed. But our inherent tendency to act does not help us face the discomfort of inexperience that is at the root of the one-upmanship we are about to see. To avoid this, we may need to make peace with the feeling of being a beginner and all of its complex emotions associated with it.
"When we can encourage ourselves to engage in activities that we are inexperienced in, we tell ourselves it is okay to be vulnerable," says Michelle. "We give ourselves the message that we can learn. We are a good parent and cheerleader to ourselves in this regard by believing in ourselves. "
We also give ourselves permission to express the feelings that we would normally hide. Rushing into work because we are uncomfortable with not being perfect is not only wrong but also harmful. Sure, everyone would prefer creative gratification over frustration, discomfort, and failure, but that doesn't make those feelings any less legitimate. and denying ourselves the chance to fall back on a full range of emotions simply slows down our humanity.
If we could cultivate a more compassionate culture, we could finally free ourselves from the assumption that our value lies in our ability to be productive. But what does tinkering have to do with it again?
"Right from the start, of course, we use play and creativity to explore both our outside world and our own capabilities," says Michelle. "The craft gives us a sure opportunity to step out of our usual patterns and gain the confidence of not knowing or not being in control."
If we are mindful of our craft instead of focusing on our performance, we will not see that we are making room for our uncertainty. We will be deep in the process of postponing our experiences with new beginnings which will pay off in our long term wellbeing. "Having the tangible experience that something is being created out of the chaos of ignorance is an important lesson in trust and the enabling of space," adds Michelle.
Crafting also helps relieve anxiety thanks to the repetitive actions that allow us to get into a state of fluidity. So if you're feeling overwhelmed with the pressure to thrive during lockdown, it's a great way to rebalance.
"Learning to sit to craft with the novice's initial discomfort is a fantastic opportunity to learn more about what scares us about this type of experience and how we can work with it," says Michelle.
"Through the safe medium of creative activity, we can experience the initial instinct to stop the activity, and instead of running away, we can become curious. We can teach ourselves that we don't have to avoid unpleasant feelings and that we benefit from the experience if we can support ourselves through it. We can gain confidence and self-worth by learning and challenging ourselves. "
Do you remember my neglected origami? Well I think tomorrow is the time to revive it and when I'm bad at it again? It will be fine.
Christobel Hastings is a London-based journalist covering culture, LGBTQ and lore. Follow her on Twitter and Instagram.