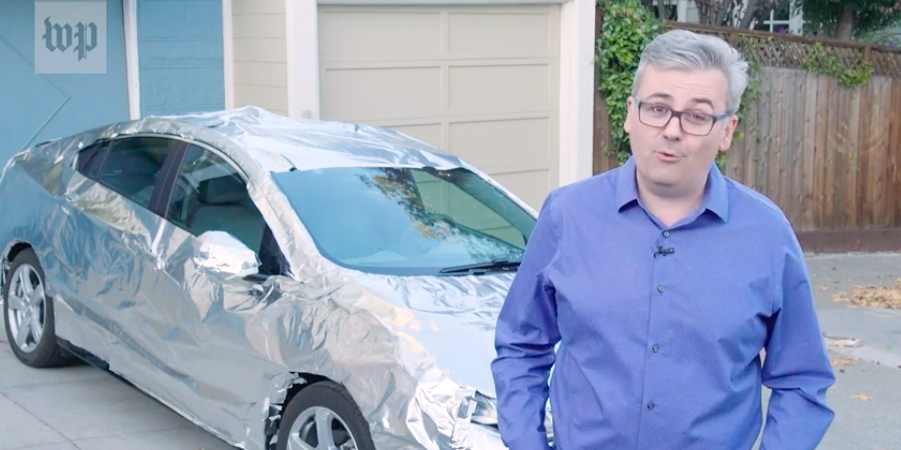 This content is imported from YouTube. You might find the same content in a different format, or you might find more information on the website.
The Washington Post today published an investigation report in which a hacker can find out what information OnStar and the internal computers are collecting on a randomly selected 2017 model car – in this case a 2017 Chevrolet Volt.

It turns out that a lot of pictures of your contacts are saved and logged wherever you go.
There are ways to limit the amount of data your car collects, but they aren̵

7;t obvious, the paper concludes – and the aluminum foil treatment humorously shown in the attached photo is not enough.
It's easy to count the benefits of connected cars. From using your phone to warm up the cabin on a winter day to setting speed limits for the new teenage drivers in your household, telematics can make life a little easier. But you probably aren't surprised to hear that these advantages come with some potential disadvantages.
This has been proven to a large extent by Washington Post Tech columnist Geoffrey Fowler (pictured above) has been researching how much information his test car, a 2017 Chevrolet Volt, is gathering. Perhaps more importantly, though, Fowler wanted to see how much information GM was getting from its connected cars. It is one thing for your car to save your favorite Starbucks in the navigation system. It's a different matter if the car company collects this information. The reporter made it clear that this isn't a Volt thing or a Chevy thing; Almost all new cars now have connectivity, including on-board internet connections.
At the moment, it is a little unknown to anyone other than the automaker themselves what information is going where. As Fowler writes, "My Chevy dashboard didn't say what the car was recording. It wasn't included in the owner's manual. There was no way to download it."
To find out, Fowler had someone hack the Volt. He discovered that the car recorded details of where the car was driven and parked, call logs, identification information for his phone, and contact information from his phone, "all the way to people's addresses, emails and even photos." In another example, Fowler bought a Chevy infotainment computer on eBay and was able to extract private information about the owner from it, including pictures of the person the previous owner called "Sweetie".
While GM has been the subject of Fowler's experiments, it isn't the only company collecting data on its drivers. In 2017, the US Government Accountability Office looked at automakers and their privacy policies and found that the 13 automotive companies examined were not strictly following best practices. For example, while automakers reported "obtaining explicit consumer consent before collecting data," the GAO stated that they "offered few options other than disabling all associated vehicle services to consumers who chose not to share their data."
GM's OnStar privacy page makes it clear that the company "may use your information to improve the quality, safety and security of our products and services, to develop new products and services, and for marketing purposes." As answer to Car and driver 's When asked to comment on the article, a GM spokesman said, "With regard to connected services, nothing happens without the customer's consent" and also pointed out that the collection of vehicle data such as location, vehicle condition and status, and operational information are many important Security precautions enables and connectivity services [including] Automatic crash notification (notification of first aiders about an accident scene), tracking of stolen vehicles and monitoring of the vehicle condition (monthly e-mails to an owner in which he is informed about the service and maintenance status). "
"Data is also used to improve vehicle quality and improve future product designs," said the GM spokesman. The spokesman also noted that new GM vehicles have a "Location Services" setting on their center screen that says, "This allows the driver to turn location services on or off at any time, similar to smartphones."
GM also said that Post Office's Fowler that it will update its privacy policy by the end of 2019.
There are currently no federal regulations
Privacy may be a big and growing problem in the automotive industry, but lawmakers and automakers are slowly moving forward to address it. Fowler points out that there are no federal laws regulating what automakers can collect or use when it comes to personal driving data. As of 2014, 20 automakers (including GM) have committed to "complying with or exceeding commitments contained in the automotive consumer privacy policy established to protect personal data collected through vehicle technologies," according to it the Auto Alliance. The first of these principles is to "provide customers with clear and meaningful information about the nature of the information collected and how it is used". However, Fowler's experience shows that this is not always the case in the real world.
To limit the private data your car collects about you, Fowler recommends not connecting your phone directly to your car using the built-in USB port and using 12-volt chargers instead. He also suggests using an app called Privacy4Cars to make sure you erase your data from cars you use but don't own, including rentals or when you borrow one from a friend.
These tricks may not be enough when the upcoming 5G networks arrive and allow vehicles to transfer more data in less time. Soon to a dashboard near you.
This content is created and maintained by a third party and is imported onto this page so that users can provide their email addresses. You may find more information on this and similar content at piano.io
Source link