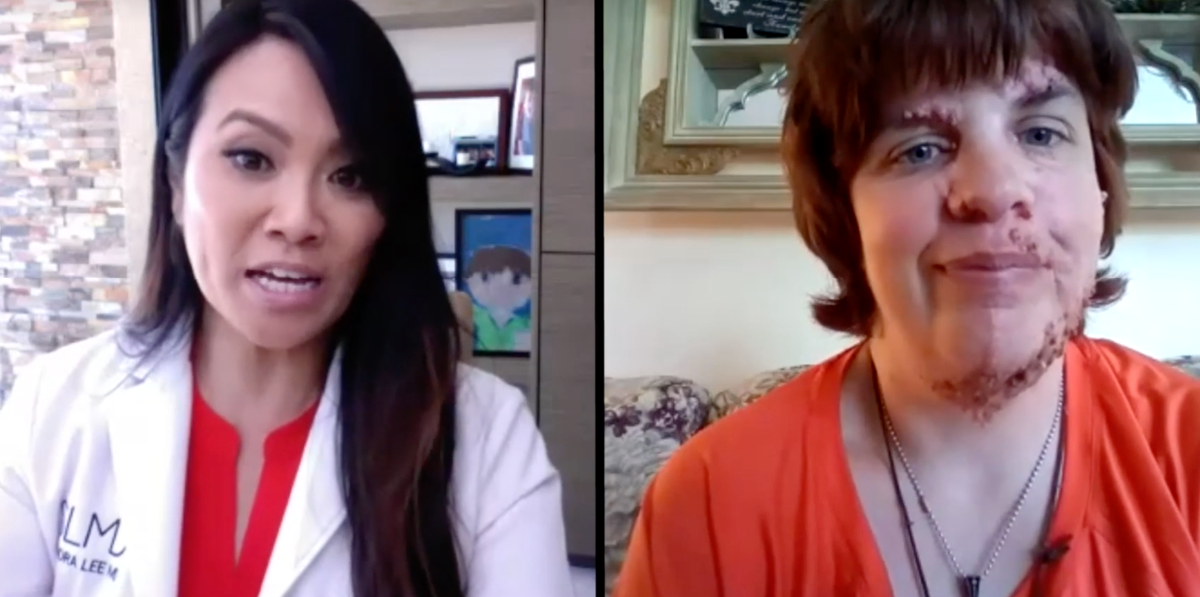 Birthmarks are usually considered small and harmless – but this one is a little different. In an exclusive clip from the new spin-off series by Dr. Pimple Popper Dr. Pimple Popper: Before the PopThe dermatologist and TLC moderator Dr. Sandra Lee, MD takes a look at the large mole on a patient's face that has caused grief her entire life.
In the clip, Dr. Lee virtually a patient named Monica who has multiple clusters of tightly packed bumps on her face. Monica says she was born with mole-like growth that started out pretty small but grew as she got older. The birthmarks have now spread to cover her neck, the left side of her face, over her forehead bones, and even her tongue.
Monica tells Dr. Lee that she had plastic surgery, dermabrasion, and laser surgery to treat the bumps.
"Every operation I̵
7;ve had has helped a little, but it'll grow back soon," says Monica. "It never really goes away."
Dr. Lee is pretty sure the moles are nevus sebum, which is in line with the opinions of other doctors Monica has seen in her entire life. A sebum nevus is a rare type of birthmark that is most commonly found on the scalp. The growth, which is actually a kind of benign hair follicle tumor, can also be found on the face, neck and forehead, as in this patient.
"This really is the largest nevus sebum I've ever seen," says Dr. Lee in the clip. "Treating sebum nevus can be as simple as shaving many of those bumps to actually transplanting tissue from another part of your body to replace the tissue you're removing."
Check out the rest of Monica's story in today's episode of Dr. Pimple Popper: Before the Pop at 10 p.m. ET / 7 p.m. PT.
This content is created and maintained by a third party and is imported onto this page so that users can provide their email addresses. You may find more information on this and similar content at piano.io
Source link