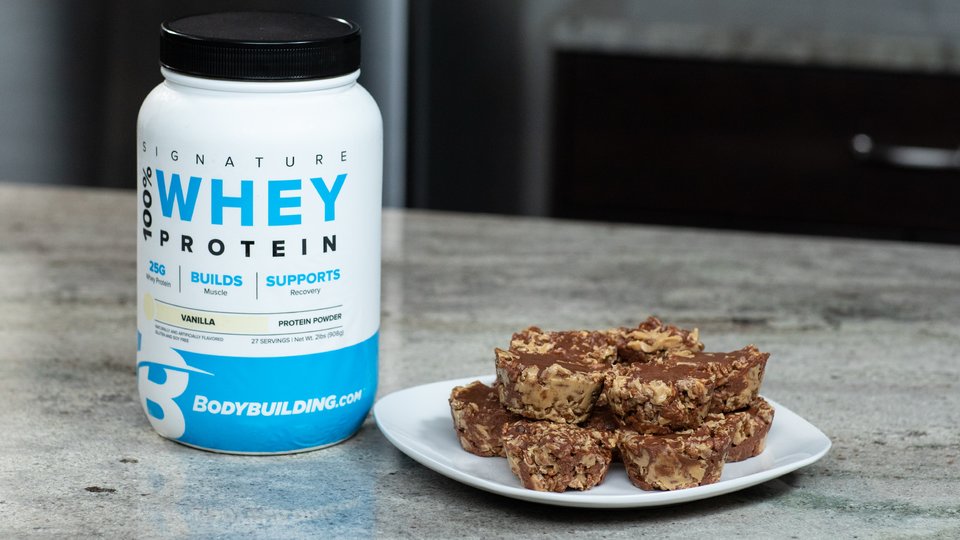 Just when you thought you could not make these crunchy treats any better, peanut butter came to steal the show! Creamy peanut butter, signature vanilla whey and the natural sweetness of honey form the basis of this nutritionally friendly dessert. With an extra shot of chocolate on top, this simple homemade treat has the decadence of a chocolate bar with no guilt!
Rice Crispy Treat Ingredients

3 cups

brown rice cereal

¾ cup

natural peanut butter

2 scoops

Vanilla whey protein powder

¾ cup

honey
glaze ingredients

½ cup

Cocoa Chocolate Chips

¼ cup

unsweetened coconut milk

3 tbsp

coconut butter
Directions
Preparation:
Cook:
Total:
Instructions for treat: Add brown rice cereal to a large mixing bowl and set aside.
Place in a microwave-proof bowl of peanut butter and honey. In 10-second intervals microwaves for 40 seconds or until the mixture is soft. Add Signature Whey Protein and mix until smooth.
Pour peanut butter mixture over the brown rice cereal. Use hands to combine well. Pro tip: Spray a little cooking spray on your hands to prevent the brown rice grain from sticking.
Transfer the mixture to a standard muffin tin, fill each hole and press the mold.
Instructions for Glaze: Add cocoa chips to a microwaveable bowl. Microwave for 15 seconds at 15-second intervals or until the cocoa flakes have melted. Once melted, add coconut butter and coconut milk and mix until smooth.
Pour over crunchy rice noodles with a spoonful of glaze. Let cool and enjoy!
Source link