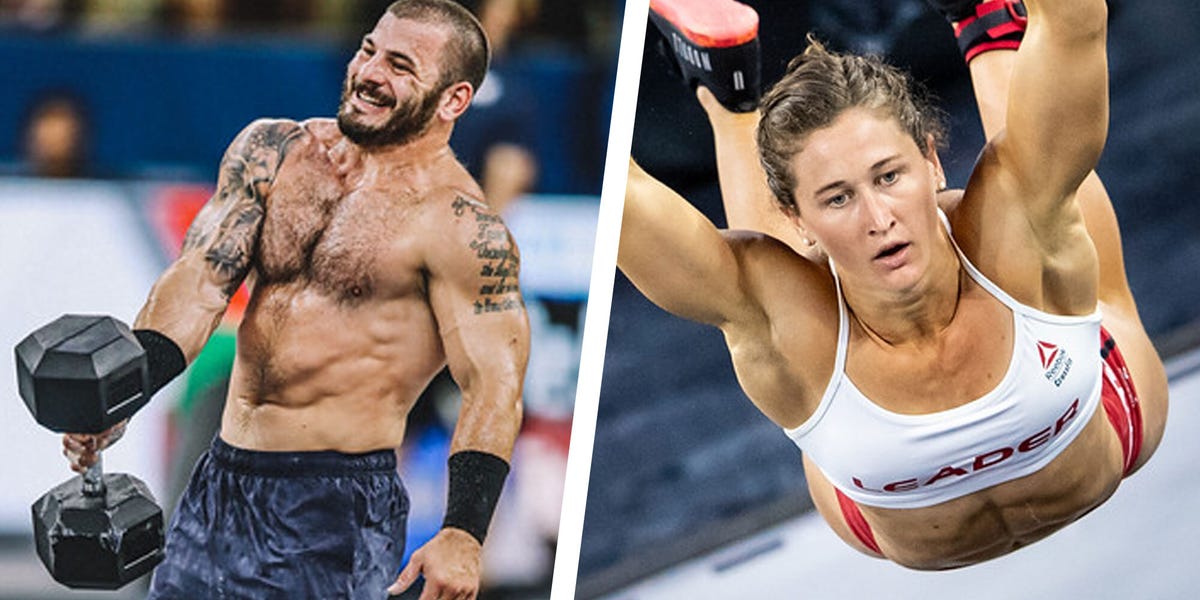 The sport of fitness is back. Type of. After the CrossFit games were moved from the Alliant Energy Center in Madison, Wisconsin, USA to Games Director Dave Castro's private California ranch in response to the ongoing pandemic, more details have now been released. The team and age group competitions do not take place. And only the 20 best men and women from the open online qualification phase and the winners of the ten Sactional events that took place before the global quarantine are invited.
Some top-class athletes will no longer be present. Two that will definitely be the four-time reigning champion Mat Fraser and the three-time successive and reigning champion Tia-Clair Toomey.
Men's Health spoke to training partners, friends, and quarantine roommates about how they exercise, recover, and relax in the lockdown.
Men's Health: All over the world people train at home without access to too much equipment. What would you do if you only had your body weight and a barbell or kettlebell?
Tia-Clair Toomey: We actually try to use minimal equipment quite often because you can benefit so much from doing more body weight movements. We bring this diversity all the time; We do our burpees, do our pushups, squat, and try to change it to keep it interesting.
Mat Fraser: I know for myself that when I train like this I always try to set it up as EMOM [every minute on the minute]. For me, these longer workouts are more of a mental than a physical barrier. I know that I am physically capable, but it is important that it attracts my attention long enough to do a good workout. With an EMOM, the light at the end of the tunnel is only 40 seconds away before you can have a sip of water.
MH: You both finished second in the CrossFit games twice before completing your dominant championship races. What has changed?
MF: For me it was half spiritual and half lifestyle. The first year when I finished second at the games, I had no idea what I was doing. I was brand new to CrossFit and showed up at the gym when I could. I trained on a Friday during the Open [the online stage of qualification] and the next time I made it to the gym was on the following Friday.
The second year was when all of my lifestyle things became very popular. I had a terrible diet and a terrible sleep schedule. In addition, I had a terrible attitude in the competition. So if something didn't go well, I would just throttle back.
Then I took a few steps. I stopped eating fast food or driving from food trucks, started a good sleep schedule, started to recover and warm up. Basically, everything I should do, I actually started doing .
This content is imported from YouTube. You may find the same content in a different format, or you can find more information on the website.
TCT: When I went to the CrossFit games for the first time in 201
5, I was amazed that I made it and just so happy to be there. In 2016, I was especially at the Olympic Games when I look back. Going to the Olympics has been a goal since I was a little girl.
The big difference in 2017 was that I built a lot more confidence and focused more on the games.
MH: After you've both won multiple times, you seem to have confidence in the competition. Do you ever get nervous before events?
TCT: I personally love nerves. That gives me the feeling of adrenaline. If I wasn't nervous, I would wonder if I care what I do. I am nervous and I love it.
MF: I am the same. I hate how it feels. the immediate effect. Before most events, I dry myself or vomit because I'm so nervous. So it's not a pleasant situation. It's no fun. At the same time, I know that I am interested and that I still have this excitement. Backstage, people will see how I get dry, and they will look at my manager and say, "God, is Mat okay?" And he says, "Yes. Oh yes, he's good. That's good!"
MH: Is there anything you saw on Netflix that you would recommend? [19659002] TCT: Did you hear about this thing called The? Best? This is a great watch. Also the last dance. We held on to the next episode every week.
MF : Early in the quarantine, I treated it like a vacation, so I looked at the whole trashy television, and then I realized that I had the most unproductive week ever. I am aware that I am easy dropping in front of the TV and seeing nine episodes of something, everyone says they wish they had time to stay home and catch up with their books, and now I'm about 100 pages at The Tipping Point [by Malcom Gladwell]. It's phenomenal Well researched book, you should read it.
Source link