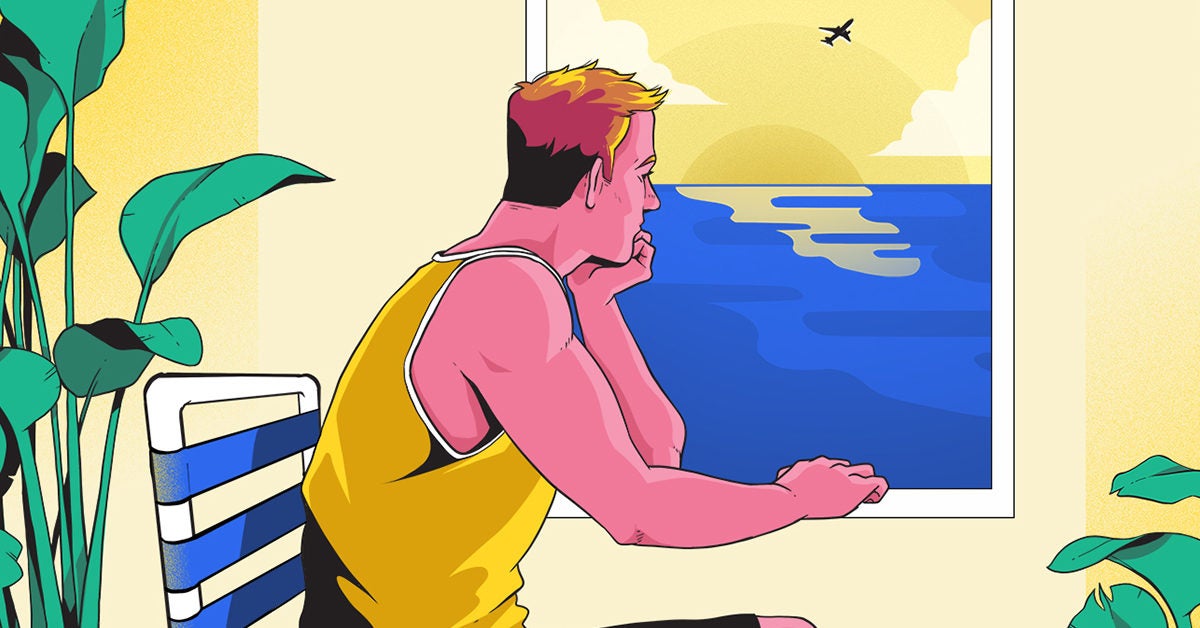 I circled the world in the midst of a planetary pandemic panic – and I wasn't overly concerned. I was actually confident that what was in front of me would not be sweat. What was the big deal about staying home? I'm a writer, so I'm 75 percent hermit.
I saw on the news and on social media that almost everyone freaked out to different degrees, but that wouldn't happen to me.
Would it?
I arrived in Bangkok on New Year's Eve 2019 to search for a novel I am writing. The action involves a pandemic that arises from East Asia. Talk about timing. At that point, nobody knew what was going on in Wuhan, not even I.
Less than three months later, the world was in a full-blown panic mode due to the actual pandemic. At that point I was in Hanoi, the capital of Vietnam, where I visited a bar called Nameless. Expats gathered there every night to drink stress and to argue about whether it was best to stay or go. Vietnam imposed the lock, and Ho Chi Minh City announced that foreigners had been rounded up and massively brought to quarantine camps.
Still, I waited two weeks, perhaps out of refusal, before catching one of the last planes outside the country when the call came from North America and Europe to go home or take the risk wherever you were.
Leaving Vietnam turned out to be a surreal, if not harrowing experience.
Instead of returning to the United States, I decided to wait and see everything in a small town on the Mexican Pacific. When my plane left Hanoi for Moscow, I was informed that Russia would stop all flights inside and outside the country. This meant that my connection would likely be cut off the next morning, which would effectively keep me at the airport because they had no longer issued an entry visa.
When we landed, we were asked to stay in our seats while people in Hazmat suits zapped us with thermal scanners. When I asked a flight attendant why she looked so nervous, she whispered, "If only one person has a fever, the entire plane could be quarantined."
;
In any case, I was allowed to get out and was told that the next morning my flight would (probably) be one of the last to be allowed to depart. * Cue relieved beers among annoying travelers. *
When I got in touch with Mexico City, I knew I was free at home. Mexico did not take the virus as seriously as it did at some point, and I correctly suspected that things would be more or less routine at the airport. About 50 hours after I left Vietnam, I arrived in the small paradise of Puerto Escondido and chose global quarantine.
The fear gradually crept in. My partner was the first to notice when she was carrying the brunt of my growing irritability. She was patient with me and understood too well what was going on because she was deep in her own version of the same thing.
As my fear grew, I blamed everything but the obvious. I worked too hard, didn't meditate, didn't get enough exercise, ate the wrong food, had to do more yoga, had to relax.
But I could not relax. I was always nervous about finding new and uninteresting ways to argue about nothing.
Then, sometime in June, I hit the emotional wall. I had vague plans for where to go next – maybe back to Vietnam or Italy or Spain – and I realized that my work and life as a traveler were indefinitely suspended. My friends were scattered all over the world, and who knew when I would see one of them again? My family was back home in Washington State, and even if I started the stressful trip north, just visiting my mother could kill her if I caught the beetle on the way.
To top it off, things looked grim in the United States, as there was a marked lack of response to the virus, especially compared to places like Vietnam, where the government had taken the matter seriously from the start. Let's put it this way: Life in Vietnam has essentially returned to normal. How normal is it in the States?
After a particularly senseless argument with my partner, I burst into tears. Everything – and I mean everything – was so damn frustrating. At that moment I realized that COVID-19 had finally reached me. Despite my logical approach to all of this, I was as vulnerable to fear and fear as anyone else.
One of the most difficult concepts to accept is surrender. American culture teaches us to fight to the bitter end that giving up control is a sign of weakness. But here's the thing: keeping control over the whole time is a struggle, and the struggle is exhausting.
Around 1,500 years ago, the Chinese philosopher Lao Tzu said: "Life is a series of natural and spontaneous changes. Do not resist them; that only creates grief. Let reality be reality. "
Given my late fear of COVID, I had to accept that the situation was beyond my control. I surrendered. Whichever travel plans I want to make, they are much further away and more theoretical. For all practical purposes, I have faced the fact that I am where I am.
When I talk to my mother about flying by, we are still discussing the need for security protocols, but we also admit that such a trip is likely to take place later than before. And my partner and I have learned (or maybe are still learning) to recognize when irritations and arguments are projections of our own fears. With this acceptance, this dedication, a growing feeling of peace has arisen.
That doesn't mean that fear is gone. But what turned into a storm has turned into a drizzle.
To borrow one last quote, this time from the American poet Henry Wadsworth Longfellow: "The best thing you can do when it rains is to let it rain."
Nick Hilden is a travel, fitness, art, and fiction writer whose work has appeared in the Los Angeles Times, Men's Health, Thrillist, Vice, and others. You can follow his travels and connect with him via Instagram or Twitter.