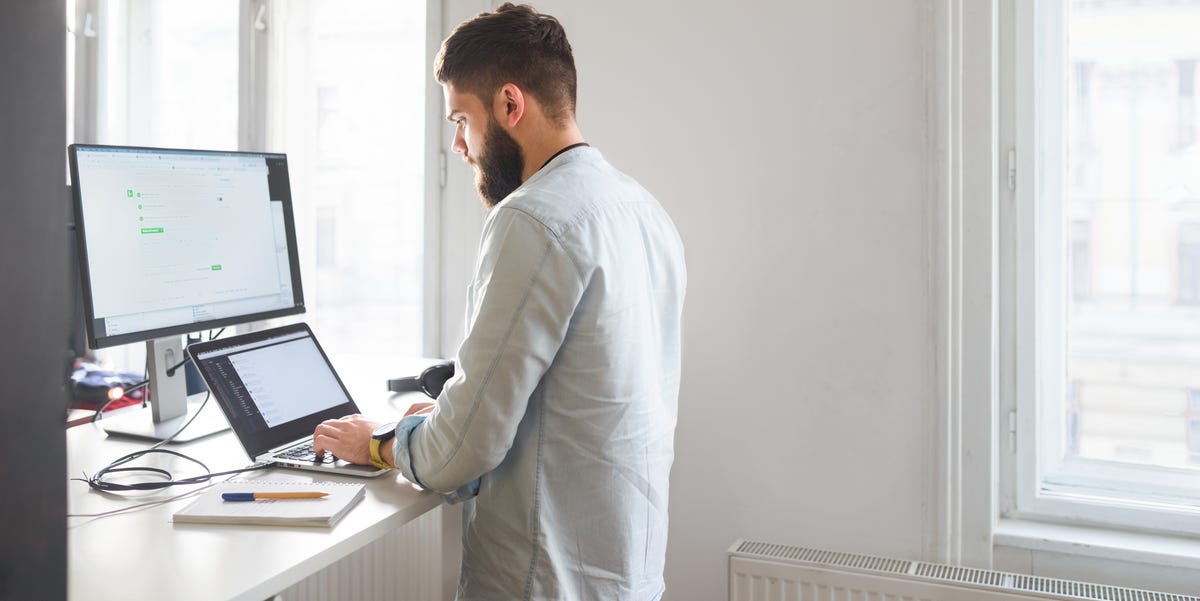 Here in the offices Men's Health you will see some standing desks. And the reason seems reasonable: with so many studies highlighting the illnesses of prolonged sitting, standing appears as your best ally. But, according to a recent article by the New York Times we may all over-emphasize. So we teamed up with Michael Fredericson, MD, FACSM, director of PM & R Sports Medicine at Stanford University Medical Center, to answer the basic question of office fitness: whether or not the job is noble. [19659002] Advertising – Read below
Much of the buzz status at work began with these studies, which followed thousands of adults for several years and increased those who sat at least 1

2 hours a day Mortality rate. Then studies began to complicate these results. They hinted that we might see a connection rather than a cause – that prolonged sitting can be an indicator of other poor health factors and is not itself a cause of ill health. And and then we have studies that suggest the complete opposite: standing could actually be worse for you! So, what's up?
Well, I think part of it is that people adapt many different variables to each other. First in terms of developmental back pain. Another in terms of general fitness. And then in terms of cardiovascular risk.
Regarding back pain, we know that sitting too long is definitely bad for your back. If you move from standing to sitting, the pressure in your hard drives increases. So, if you sit too long (and especially if you stay in the same position all day), your disks will tend to bulge more. This is because you lose some of the fluid in the drive when you are in a fixed position. For the health of the spine, you definitely do not want to sit the whole day. Standing is better than sitting, but being in the same position all day is not good for the back either.
In terms of overall health, there are a number of studies stating that sitting too long leads to poor general health factors. Part of it could be that the people who sit too much are the ones who do not train so much. So here comes the question of causation into play. To the extent that sitting involves other risk factors – people tend to have more visceral body fat, tend to be cardiovascular-poor, etc. – Sitting may indirectly lead to increased mortality
Advertising – below [19659007] But I really think the bigger problem is just inactivity – that's what studies find.
So it seems that standing is just as bad. Can we finally sit down and not feel guilty?
I think if you've been in the same position all day, it's probably a bit better on your back. However, it is not necessarily much better in terms of the other health profiles associated with inactivity. It's probably about the same thing. You should not do anything for six to eight hours a day, whether you are sitting in front of a computer or in front of a computer. Our bodies should move.