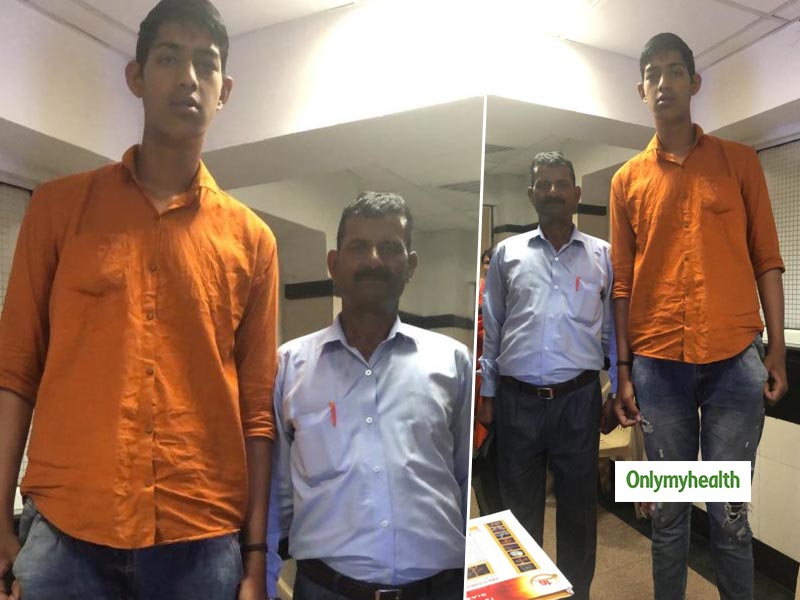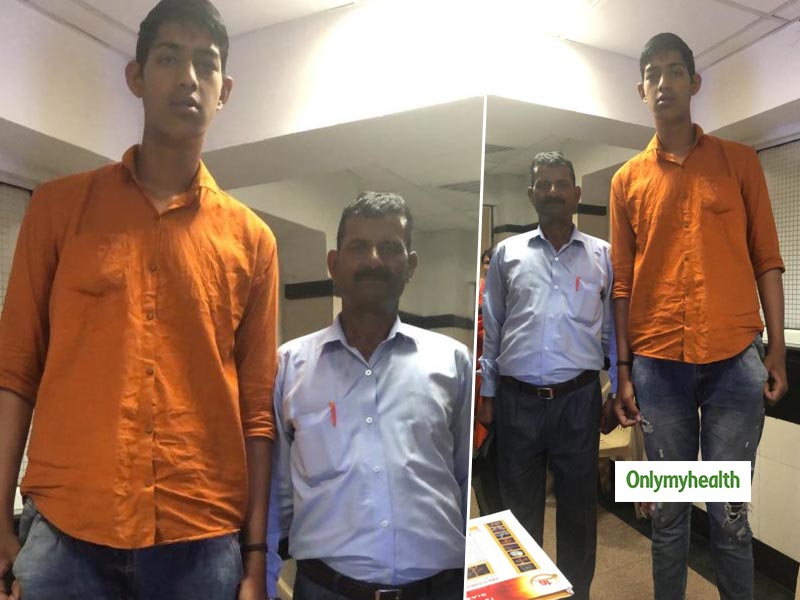 Another khali in the making? Meet the gentle giant who survived a rare brain tumor.
It's called the Gentle Giant – sixteen-year-old Mohan Singh is quite celebrity in his hometown Pithoragarh, Uttrakhand. With a height of 7 feet 4 inches and a weight of 113 kilos, Mohan is usually the center of attention. In fact, the people in Meerut got to take a selfie with him when he was in town to get shoes from a local factory tailored for him.
Well, if anything that sounds like Mohan's greatness is his blessing, let us explain the situation a bit more. Mohan had a rare tumor in the brain. The pituitary gland in the brain is usually pea-sized, but in Mohan's case, it had grown from the tumor. As a result, the growth hormone that is supposed to produce the pituitary gland was abundant.
This led to a situation called gigantism. Mohan grew and outgrew his clothes, his shoes and even his bed. All of these problems could be solved, but five months ago, the headaches began incessantly and severely.
An MRI scan revealed that it is a tumor. At the time, Mohan was transferred to the All India Institute of Medical Sciences (AIIMS) for surgery.
Read also: Amarnath Yatra 2019: Breathless pilgrims provided oxygen. How to Stay Fit at High Altitudes
DIAGNOSIS AND SURGERY
The tumor was large and growth hormone levels were high. The two-hour operation was P Sarat Chandra, a professor of neurosurgery at AIIMS, performed and removed the tumor completely endoscopically. A specially designed retractor was used to remove the brain tumor through the nose.
The operation was a success. Growth hormone levels have normalized. Doctors say that Mohan's headache will be gone, his weight will go down, but his size will remain the same.
Read also: Mental Health: The key to employee health
GIGANTISM AND ACROMEGALIA
Growth hormone-secreting tumor is not genetic conditional and quite unusual. If the tumor develops in adolescence, this leads to an increase in height. The condition is called gigantism. According to Dr. Sarat, such patients are very weak and also suffer from heart, hormone and bone complications.
However, when the growth hormone secreting tumor develops in adulthood, patients suffer from abnormal bone growth rather than becoming large. This condition is called acromegaly. The bones of hands, feet, face, nose, lips, etc. may be signs of acromegaly.
Other cases of gigantism
Mohan will have to live with his height of 7 feet and more. But he is not the only one. The WWE star "The Great Khali" is said to have undergone surgery to remove a benign pituitary tumor.
The Indian Journal of Endocrinology & Metabolism lists another case of a 25-year-old woman who has had similar symptoms since she was 14 years old. Like Mohan, she reported headaches and back pain. However, she refused an operation.
Other articles on other diseases

Written by: Onlymyhealth Staff Writer
Source: Onlymyhealth Editorial Team 05.07.2019
Source link