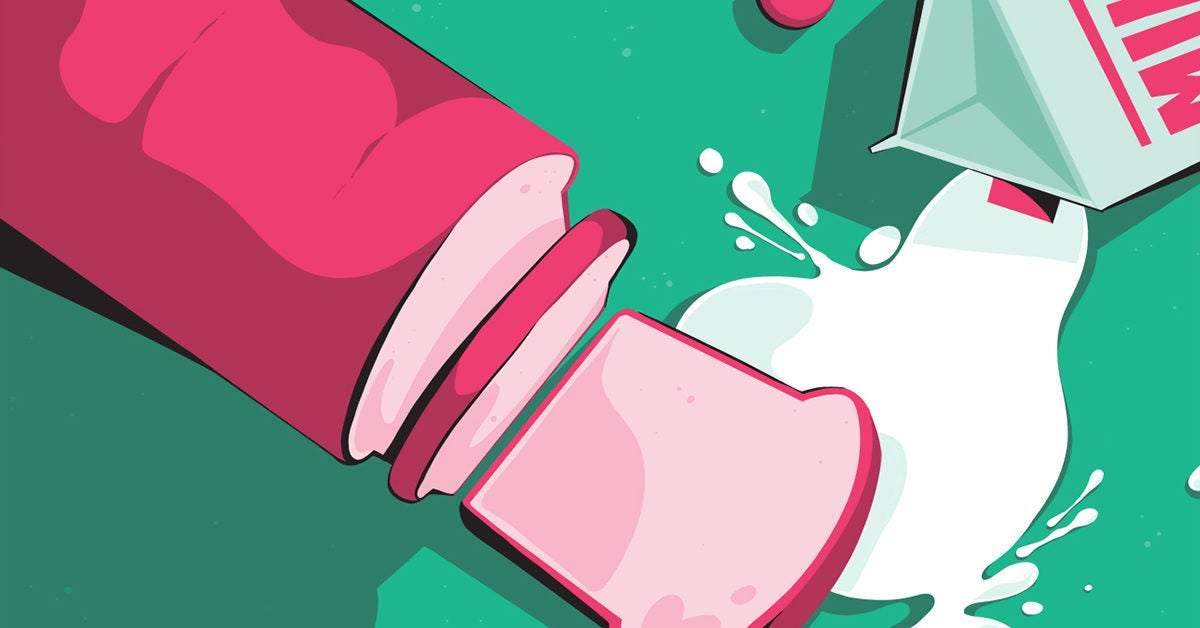 Milk and bread – they are definitely the two most stereotypical shopping lists. If this were a sitcom and the mother had to go to the store, she would definitely come back with bread and milk.
They found their way into popular idioms ("Land of milk and honey", "The best thing since sliced ​​bread") and in innumerable photos of foods that look out of a brown bag.
Fortunately, the fame of these staples is justified: they serve as the basis for countless recipes for breakfast, lunch and dinner. So we wouldn't be surprised if you stocked up with both during the COVID 1
9 pandemic.
To help you get through your daily bread (rather than crying over spilled or spoiled milk), we have put together a plan for you to consume a full gallon and a whole bread before you turn.
An inevitable truth about bread and milk is that both are perishable. If you don't act fast enough, you have to throw them.
To avoid having to throw bread away, split the bread in half when you bring it home from the store. Store one half on the counter or in a bread box (if you are cool enough to have a bread box) and store the rest in the freezer.
The storage of milk is of course another story. Although you can freeze this creamy drink its fat content means that it may have an uncomfortable separation when thawed. (Ew.)
For the best tasting milk, store it in the refrigerator and use it when it is fresh. If milk is opened before the printed expiry date, the freshness should not decrease significantly in a week – and it can even last longer than 7 days in the refrigerator.
Listen back to your third grade math class: how many cups are in a gallon? If you said 16, give yourself a gold star.
Getting through 16 cups of milk in a week may sound like a daunting task (especially if your household is just you, your roommate, and his cat), but it's not impossible. The following recipes show the creamy freshness of the milk at the beginning of the week and later work on cooked recipes.
In contrast to a gallon of milk, the size of a loaf of bread is not so clear. A standard bread in the United States can contain 12 to 24 slices – far larger than the breads that you find on food shelves in other regions of the world. (Have you ever seen Korean bread?)
Around 16 slices of white bread are used in this plan.
Fresh milk and bread work well for the first meal of the day. Start your week off with a few healthy breakfast options.
Avocado Toast
* Uses 2 slices of bread for 1 serving
Yes, we know that Avo Toast has become a hipster cliché … but it's also full of healthy fats and antioxidants, and it tastes good like Sunday morning. If you make it at home, you don't have to pay the 400 percent surcharge!
This Spend with Pennies recipe is simple: Toast fresh sourdough to crispy perfection, add mashed avocado and drizzle some virgin olive oil and finish with freshly ground pepper.
Get the recipe!
Freezer Smoothie Packs
* Uses 3 cups of milk for 3 servings
Milk may not freeze well, but fruits and vegetables certainly do. Make these dessert now, dinner later smoothie packs at the beginning of the week from ingredients suitable for you, such as frozen mangoes and spinach.
When you're ready for a refreshing breakfast, just pull a pack out of the freezer and mix it with 1 cup of milk. Three acres of smoothies will turn off 3 cups of your gallon.
Get the recipe!
Until mid-week, your bread on the counter should stay fresh (ish) while the milk stays calm in the fridge. Let both of them work in a comfort dinner and a delicious breakfast.
Creamy potato soup
* Uses 6 cups of milk for 8 servings
Sometimes simple recipes are the best – especially simple soups. To consume more milk, make a double batch of this creamy pinch of yum meatless soup and freeze half of it.
Get the recipe!
Single-slice garlic cheese bread
* Uses 4 slices for 2 servings
Can anyone honestly say that he doesn't like cheesy garlic bread? That means having a whole loaf of it in the house could also be a little tempting .
To avoid eating all your bread in one meal, try making it piece by piece with this recipe from Café Delites. For two people, four slices of cheese are the perfect dip for your creamy potato soup.
Get the recipe!
Blueberry Baked Oatmeal
* Uses 4 cups of milk for 8 servings [19659002] This family-sized batch of berry-like baked oatmeal flour from Little by Little Farmhouse makes a 13 x 9 inch pan.
If your household isn't big enough or is starved at breakfast to devour an entire tin pan of oatmeal, wrap individual portions tightly and freeze them.
Heat in the microwave (with an additional splash of milk!) For a delicious, fiber-filled start to the day.
Get the recipe!
By the end of the week The last cups of milk in your gallon should still be good to eat (or drink). But if they have passed the peak of freshness, baked and cooked recipes will hide them well.
As for your remaining bread, now is the time to get it out of the freezer – you are about to finish what you started.
Pasta with White Sauce
* Uses 1 cup of milk for 6 servings
As your milk and bread levels decrease by the end of the week, other ingredients may be running low.
A simple dinner like this from Lil & Luna uses basics that you probably still have in stock, like pasta, chicken broth, parmesan and (obvs) milk. Although it doesn't require anything special, it still tastes delicious.
Get the recipe!
Simple breakfast casserole with ham and cheese
* Uses ~ 10 slices of bread and 2 cups of milk for 6 servings
We will admit that a casserole with ham and eggs sounds like a breakfast meal, but who loves not a little BFD (breakfast for dinner) or even BFL (breakfast for lunch)?
To prepare this easy brunch casserole, you will revive less than fresh pieces of bread by soaking them in milk and adding ham, cheese, and green chillies. Recipe too much? No problem: leftovers are good for every meal of the day.
Get the recipe!
Sarah Garone is a nutritionist, freelance writer and food blogger. Find her at A Love Letter to Food or follow her on Twitter .