Your work affects your health in many ways. It can affect your mental health, your physical health and your heart health. Your work leaves you sitting for hours, which can affect your heart in many ways. The risk of getting heart disease increases day by day. Certain changes in your diet and lifestyle can prevent the risk of various heart diseases. Your work takes up most of your day. You need to look for ways that can help you maintain your heart health at work. Some minor changes can help prevent some serious cardiovascular disease.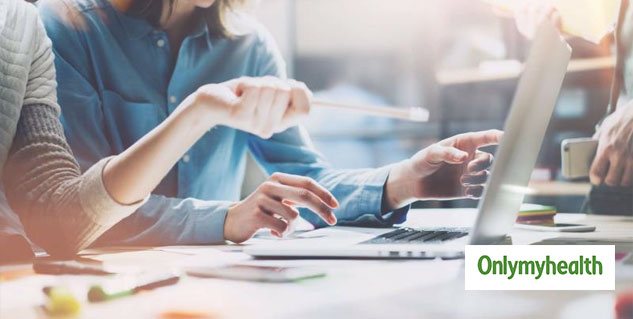 Eat Right
Eating the right food is the first step in achieving a healthy heart. They must contain foods that are heart-healthy in your diet. Make a diet plan that contains all types of nutrients in the right amount. A balanced diet helps you to eat all the necessary nutrients for a healthy body. Hearty foods include green leafy vegetables, whole grains, nuts, berries, green tea and dark chocolate.
Read also: Smoking is one of the major risk factors for heart disease. Smoking increases your blood pressure and reduces the oxygen level in your heart. It also speeds up the heart rate and can make your blood clot. Smoking also damages the blood vessels in your heart. If you smoke very often, you must immediately use various methods to stop smoking. Smoking also triggers other health conditions, especially respiratory problems.
Reduce Stress
Stress is also associated with a higher risk of heart disease. Your work can be very stressful. Try to reduce your stress at work. Make your working environment healthy and try different ways to reduce stress. You can take short breaks between work to relieve stress. You can also listen to your favorite music for a while. You can include many other activities that can help reduce stress in your workplace. You can also include meditation in your morning routine to relieve stress.
Read also: Heart Attack or Cardiac Arrest: Know the Difference and the Symptoms.
Move
. Try to move as much as possible. Take a little walk after lunch with your colleague. You can also play some indoor games to incorporate more physical activity into your everyday life. This also helps to reduce stress. Some small steps, such as climbing stairs or walking during a phone call, can help you increase the number of steps in a day.
Manage Your Weight
If you are overweight, you need to exercise regularly to lose weight. Obesity can damage heart health. A proper diet and exercise is the best way to lose weight. It also keeps your blood sugar and cholesterol levels in balance. Exercise also helps in dealing with stress and anxiety.
Other ways to keep your heart healthy are:
Do not drink too much alcohol
Get enough sleep
Drink more water
Lots of salt
Stay the same active throughout the day
Read more articles about heart health.
For more related articles, download the OnlymyHealth App.