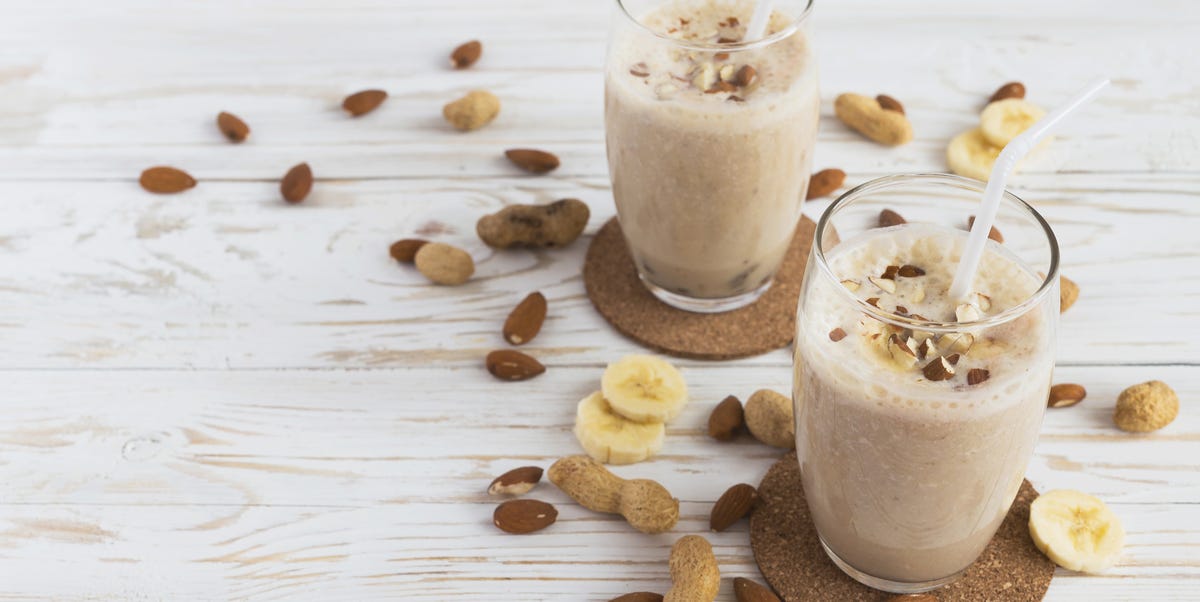 There are many ways to add peanut butter to your diet. Peanut butter is also a great addition to any smoothie. Healthy fats and fiber at the heart of peanut butter help make every protein-packed smoothie more nutritionally balanced. When adding peanut butter to your smoothie, it's important to use the right kind of peanut butter.
Of course, without peanut butter without added sugar, like smuckers.
I always warn customers about flavored peanut butter (or nut butters), especially honey and peanut butter with dark chocolate. These sound healthy (and delicious), but they come with extra sugars that nullify any additional health benefits. Stay in the making of smoothies when using peanut butter with no added sugar.
1

. Mixed Nut Keto Smoothie
This ketogenic, dietary smoothie is great in flavor due to the combination of different nuts. It is best made with a whey / casein mixed protein powder to make the smoothie creamier.
Ingredients:
● 2 tablespoons of pistachios
● 1 tablespoon of peanut butter
● 2 tablespoons of chopped walnuts
● 1.5 scoops of Vanilla Metabolic Drive Protein Powder
● 1 tablespoon of flaxseed
● 4 ice cubes
● 2 cups water
Nutrition facts:
● Calories: 489

● Calories: 489

] ● Fat: 34 g
● Carbohydrates: 17.5 g
● Fiber: 6 g
● Protein: 35 g

2. Creamy Peanut Butter Smoothie

This smoothie turns replicas into a milkshake without adding ice cream. Not only does this shake make you feel cheated on your diet, but with 52 grams of protein, it's also an excellent meal for rebuilding and repairing muscles after a strenuous workout.

Ingredients:

● 1 scoop of vanilla protein powder
● full cup of whole fat quark
● 3 TBSP peanut butter
● 1 TBSP chia seed
● 4 ice cubes
● 1½ Cups of Water

Nutrition Information:

● Calories: 586
● Fat: 30 g
● Carbohydrates: 34 g
● Fiber: 9 g
● Protein: 52 g

third Peanut Butter Cappuccino

This amazing combination of peanut butter and cappuccino was stumbled upon by a customer of mine who used cappuccino protein powder because he had access only when his local store had used up the vanilla protein. This happy accident became one of the biggest breakthroughs in smoothie history.

Ingredients:

● 2 tablespoons of peanut butter, natural
● 1 serving of cappuccino flavor Ascent Whey Protein
● 2 tablespoons of hemp seed
● ⅓ frozen banana
● 2 cups of water

Nutritional information:

● Calories: 472
● Fat: 27 g
● Carbohydrates: 19 g
Fiber: 5 g
● Protein: 40 g

4. Coconut Peanut Butter Smoothie

The combination of chocolate, coconut, and peanut butter is something straight out of the sweetness course, but this smoothie is carb-controlled (just 11g) and filled with protein (40g!) It's the perfect drink if you need a low carbohydrate meal but have limited time.

Ingredients:

● 1 serving of chocolate protein powder
● ¼ cup low-fat cottage cheese
● ⅓ cup lite coconut milk preserves, shake well
● 2 TBSP peanut butter
● 1 cup water [19659008] ● 3 ice cubes

Nutritional values:

● Calories: 400
● Fat: 22 g
● Carbohydrates: 11 g
● Fiber: 3 g
● Protein: 40 g [19659021]. 5 Peanut Butter and Jelly Smoothie

No Best of The peanut butter article would be complete without the combination of peanut butter and jelly. The use of strawberry protein powder and peanut powder in powder form strengthens these flavors of this outstanding combination, but keeps them below 400 calories making them a great snack.

Ingredients:

● 1 cup of strawberries
● 1 tablespoon of natural peanut butter
● 1 serving of strawberry protein powder
● 1 tablespoon of ground flax seeds
● 2 tablespoons of PB2 powdered peanut butter
● 4 ice cubes
● 2 cups water

:

● Calories: 361
● Fat: 14 g
● Carbohydrates: 24 g
● Fiber: 6 g
● Protein : 37 g
Source link