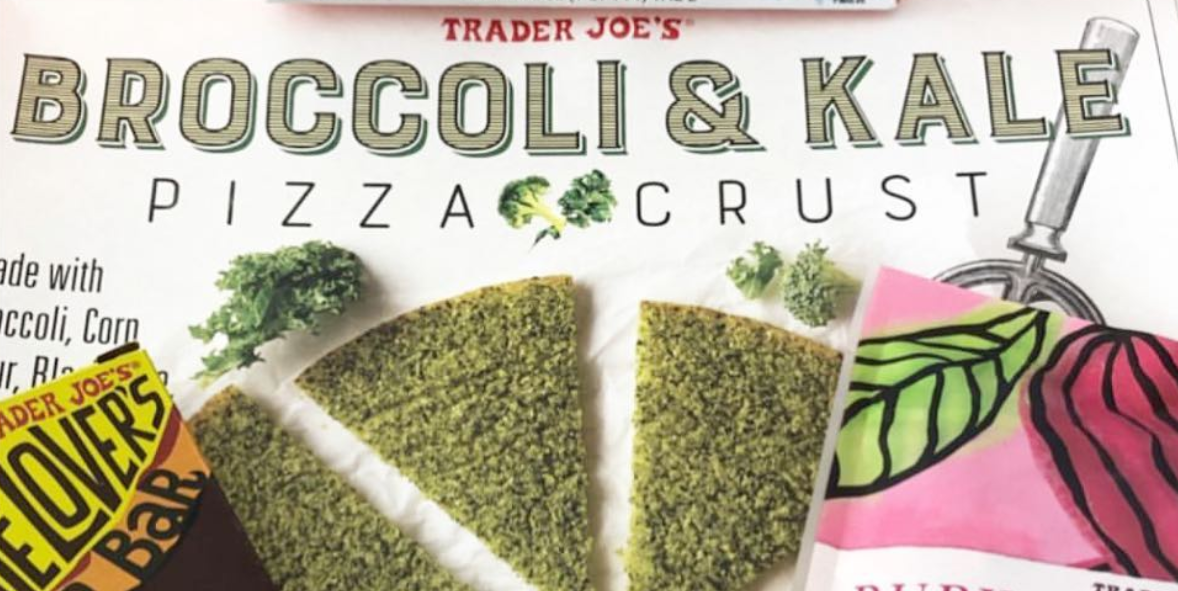 Trader Joe's / Maddie Flager [19659003] There is the shopping list you create when you Go to Trader Joe, and then there's a list in your head – the must-have that you do not even have to remember to pick it up. These are the 30 items: TJs products that somehow end up in our carts. Single. Time.
1
Broccoli and Kale Pizza Crust
People are flipping over the TJ cauliflower crust, and this new variety of broccoli and kale is no different.
2
Mini Dark Chocolate Mint Stars
If I have not hoarded half a dozen boxes of it over the Christmas season, you have not lived.
Salsa without corn and chile without tomatoes
There is not much that does not fit: chips, burgers, hot dogs, fish, salad … do we have to continue?
4
Cauliflower Gnocchi
Buy before noon if you only want half a chance to find them in stock. And do not follow the cooking instructions on the back of the bag: just throw it in a pan with olive oil or butter.
5
Norwegian crispbread
Looks good, tastes delicious, packs nutrients. Done.
6
Everything but the bagel spice mix
TJ's regulars chose BONKERS when it came out, and now it's a staple in most spice cabinets.
Peanut Butter Filled Pretzels
Honestly, have you ever made it through the snack bar without picking it up?
8
Mandarin Orange Chicken
True Life: Once upon a time some friends and I ate this with our hands a foil-covered table. The utensils and plates were packed after the move. I regret nothing.
9
BBQ Chicken Teriyaki
They are either an orange chicken or a teriyaki chicken lover. Not both. Never both.
11
Chilli Lime Chicken Burger
The price of this four-burger box has stayed the same ($ 3.49) since it first hit the market more than a decade ago. Trader Joe, you're just too good for us.
12
Speculoos Cookie Butter
There are many ways to eat these biscuit butter, but this recommendation of the Fearless Flyer is best: "Keep it really simple and just use it as a dip for a spoon."
13
Banana slices with chocolate coating
Do you know what? These are the best-selling frozen treats ever made by Trader Joe.
14
Joe-Joe's Chocolate Vanilla Cream Biscuits
Oreos … but from Trader Joe's … so much the better.
15
Spinach and Kale Bites
The ultimate appetizer for dinner parties, which is only incomplete for you to be homemade.
16
Baked Cheese Crunchies
For those in the back: 33% less FAT AS RULES OF FRIED CHEESE SPICED CORN.
17
Crispy salted peanut butter with flax and chia seeds
You can not find this anywhere else – at least not at a very low price of $ 3. 19659052] 18
Steamed Lentils
These lenses are what everyone loves most about Trader Joe's: cheap and ready to eat.
19
Vegans Kale, Cashew, and Basil Pesto
The tub says "vegan," but that's not just a fan-fav among the veg heads. Even meat eaters can not get enough.
20
Vegan Mozzarella Schnitzel
Dairy-free TJ visitors love this because they melt like real Mozz] This comes in a cute little ceramic pot and is not just a spicy spice – it's the perfect match to a gift basket.
23
Organic Broccoli Salad
The best thing about this unclothed coleslaw is
24
Mini Brie Bites
So you feel like you're eating a whole wheel.
25
Carrot Ginger Miso Salad Dressing [19659006] These new formations became a hit with TJ's health freaks.
26
Churro Bites
No, no, no, I have never eaten a whole bag in one sitting.
27 [19659005] Simpler Wines
This is $ 1 per can, and frankly we can not think of anything better. The rest of the people who shop at Trader Joe can not seem to have done so since the store brought them back this summer.
28
Thai Yellow Curry Sauce
A must for quick dinners. [19659082] 29
Butternut Squash Zig-Zags
There's something about this – it's the super fun form – that gets kids and adults alike to eat (and love) their vegetables.
30
Seedy Almond Salad Topper
These guys are packed in tiny portions to sprinkle on your salad. They are new and already a favorite.
31
Bamba Peanut Snacks
Imagine Nutter Butters and Pirates Booty having a baby. That's it – and people are OBSERVED.
Source link