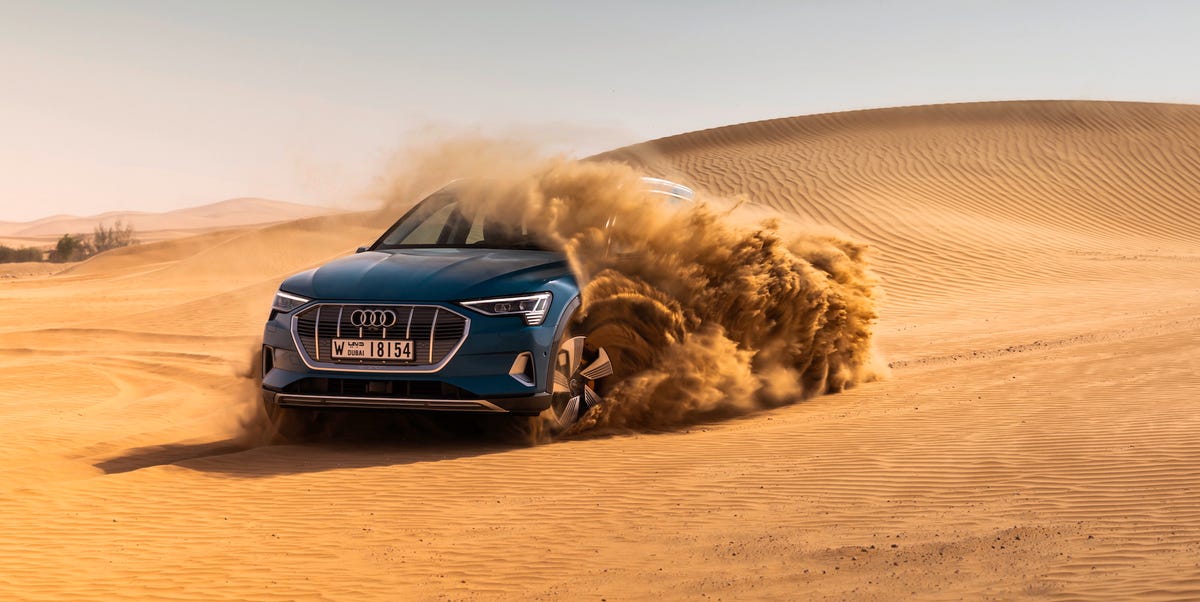 The irony of tearing through the oil-rich desert in the United Arab Emirates in the new Audi 2019 e-tron, a purely electric SUV, is enough to make a giggle. On a windswept dune somewhere between Al Ain and Abu Dhabi lies Audi's vision for the future of mobility. The metaphorical game of the king of the (fuel) hill becomes literal. The electrification is here and it wants to bring fossil fuels into the past.
The choice of Audi in the Middle East as a perfect backdrop for the first foray into all-electric vehicles was no coincidence. Tester E-Trons were assigned in Masdar City, an urban residential and commercial oasis on the outskirts of Abu Dhabi, which was built specifically CO2-emission-free. Highly funded by the UAE government, Masdar promises a future without fossil fuels. The construction work is expected to be completed in ten years. Although it is now more of a ghost town than a booming example of renewable energy, this is the beginning of the tide turn.
The parent company of Volkswagen, the Volkswagen Group, can rely heavily on this. Despite the production of more than 1
0 million vehicles with combustion engine in 2017, the Volkswagen Group plans to introduce 27 electric vehicles by 2022 at a price of 50 billion US dollars. The E-Tron is a solid start for this boost, a luxury battery electric vehicle that keeps close to Audi's brand DNA.
An Electric Design
That said, the E-Tron has a lot to love. Audi did not intend to reinvent the electric car – a market segment that already includes the Tesla Model X and Jaguar's I-Pace, and soon the EQC from Mercedes-Benz and the R1S from Rivian. Instead of radical swoopings, which designers tend to transfer to electric vehicles, the e-tron looks like any other Audi running off the line: modern, clean, sporty and slightly aggressive. It is even more beautiful in person, especially when it is dipped in Antigua Blue Metallic paint.