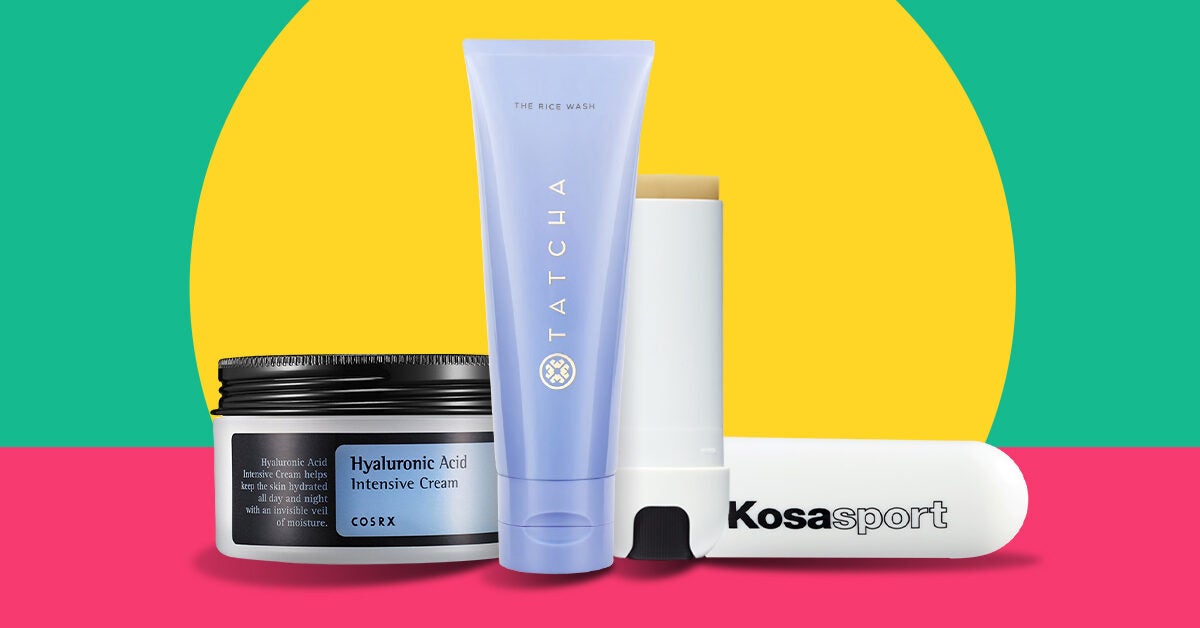 The benefits of using hyaluronic acid for skin include:
Improved appearance. Studies found that lotions, creams, and moisturizers containing the acid can help reduce wrinkles, tighten skin, improve texture, and fight dryness.
Reduced acne scars and acne. When applied or injected, hyaluronic acid can reduce the appearance of acne and acne scars.
Damp skin. This is a property that is often sought after through the use of moisturizers, oils, or highlighter pens. However, hyaluronic acid serums, creams and lotions add moisture to the skin, which makes your skin look more moist.
Reduced eczema. In patients with "mild to moderate" redness and eczema, the symptoms could be reduced by using a hyaluronic acid-based foam. Be sure to speak to a doctor before trying.
Conditioning for the scalp. While hyaluronic acid doesn̵

7;t do much when applied to your hair, it can condition the scalp. Hair follicles are embedded in the skin layer, and hyaluronic acid can encourage growth at this level.
Not only does hyaluronic acid help plump, smooth, moisturize, and beautify all around, it also works internally to solve a number of problems. Science is firmly behind these benefits:
OK, now that you know what it does, how do you deal with it?
Hyaluronic acid is available in a variety of forms, including oral supplements, applied serums, and injectables. Which one you ultimately go for depends on what you use them for, what your budget is, and what personal preferences you have.
Oral hyaluronic acid. It is always best to speak to a trusted doctor before using an oral supplement. Studies have shown that consuming 120 to 240 milligrams per day for at least a month significantly reduces dry skin and increases moisture levels.
Topical hyaluronic acid. In addition to hyaluronic acid serums, there are creams and make-up that contain the acid as a main ingredient. As with any new skin conditioner, results and side effects can vary. Since hyaluronic acid occurs naturally, the side effects are usually limited.
Injectable hyaluronic acid. Some dermatologists offer injectable hyaluronic acid fillers. While the treatment is believed to be safe, this guide will focus on options that are readily available to consumers for home use, namely oral and topical.
For all of the above non-skin related uses, you should speak to a doctor or seek advice from a local health clinic about whether HA is right for you – and if so, what form, dose and frequency, etc.
You have come to the right place for beauty treatments. When you're ready to try hyaluronic acid for acne, dry skin, annoying wrinkles, or just plain glowing skin, we've rounded up the best products to try. Do you want to soothe a dry scalp or encourage the growth of lush curls? We have that on the list too.
We chose these products because of their effective ingredients and enthusiastic customer reviews. We included options like serums and supplements, as well as beauty products with hyaluronic acid.
While they vary in price, most of the products on this list cost less than $ 40.
Price leader
$ = under $ 10
$$ = $ 10- $ 35
$$$ = over $ 60
The common hyaluronic acid
This $ 7 serum combines hyaluronic acid and vitamin B5 to give dry skin the much needed moisture. The liquid-based product, intended to be used twice daily, made the faces of online reviewers appear brighter than ever, and some reported softer skin.
Main Ingredients: Hyaluronic acid, sodium hyaluronate cross polymer, vitamin B5 (as panthenol)
Price: $
Buy the common hyaluronic acid online.
Tatcha The Rice Wash skin cleanser
Those interested in incorporating hyaluronic acid through a daily cleansing routine should consider this face wash. The cream-based cleanser washes away makeup and dirt, but its blend of hyaluronic acid, Japanese seaweed, and Japanese rice powder should also soften the skin.
Main Ingredients: Hyaluronic acid, a mixture of nourishing Japanese algae and Japanese rice powder
Price: $$
Buy Tatcha The Rice Wash skin cleanser online.
ColourPop Pretty fresh hyaluronic acid tinted moisturizer
By adding hyaluronic acid directly to this tinted moisturizer, users can skip the extra step of doubling up on individual products. Because moisturizer has been shown to be effective in treating oily skin, you get both the hyaluronic acid benefits and the added moisture.
The product is available in several tinted colors, but you should be careful when using it as some have reported looking "streaky and blotchy" while others experienced breakouts.
Main Ingredients: Hyaluronic acid, coconut water (Cocos Nucifera water)
Price: $$
Buy ColourPop Pretty Fresh Hyaluronic Acid Tinted Moisturizer Online.
Fresh Rose & Hyaluronic Acid Deep Hydration Moisturizer
More than 1,000 buyers have given this moisturizing cream a five-star seal of approval, citing the combination of hyaluronic acid and rose water as the reason for "damp" skin. Sensitive skin users praised the product, but those with oily skin cited additional breakouts that may be related to its use.
Main Ingredients: Hyaluronic acid, Angelica Keiskei extract, rose water as Rosa Damascena flower oil, tocopheryl acetate
Price: $$
Buy Fresh Rose & Hyaluronic Acid Deep Hydration Moisturizer Online.
The INKEY List Hyaluronic Acid Hydrating Serum
Peptides that focus on reducing wrinkles and fine lines combine hyaluronic acid in this popular serum. The $ 8 price of the serum is partly responsible for its popularity. Consumers call it a "low cost" alternative to similar, more expensive products.
"This feels amazing on the skin," wrote one reviewer while another said it doesn't feel sticky when applied.
Main Ingredients: Hyaluronic acid, palmitoyl tetrapeptide-7, palmitoyl tripeptide-1
Price: $
Buy the INKEY List Hyaluronic Acid Hydrating Serum online.
Neutrogena Hydro Boost
Thanks to the quickly absorbing formula of this gel, this is a product that can be easily worn under liquid makeup.
Some online reviewers, suitable for all skin types, swear by the article, saying, "My cystic acne stopped, my skin is supple, clear, and brightened." Another reviewer called it an "effective, affordable" alternative to more expensive ones Products.
In the case of customers with sensitive noses, some customers found that they were not a fan of the product fragrance.
Main Ingredients: Hyaluronic acid
Price: $$
Buy Neutrogena Hydro Boost online.
Kosas Kosasport LipFuel Hyaluronic Lip Balm
With this balm, your lips can take advantage of the moisturizing properties of hyaluronic acid. The balm, formulated with shea butter and wild mint, which is available in three color variants, was given top marks by buyers because the lips felt "lush" and were easily applied.
Not everyone is a fan of the balm's packaging as some have reported problems with the balm's thin applicator.
Main Ingredients: Hyaluronic acid, shea butter, avocado oil
Price: $$
Buy Kosas Kosasport LipFuel Hyaluronic Lip Balm online.
CORSX hyaluronic acid intensive cream
This intensive cream is hypoallergenic and tested by dermatologists. It gives the face long-lasting moisture.
Customers reported that a little bit was usage-related and some saw immediate results. However, some have reported that it doesn't mix well with makeup and that sometimes it doesn't feel really absorbed by the skin.
Main Ingredients: Hyaluronic acid, sunflower oil
Price: $$
Buy CORSX Hyaluronic Acid Intensive Cream online.
Tarte SEA Mermaid Skin Hyaluronic Acid Serum
With the addition of vitamin B5 and algae extract, this hyaluronic acid serum can also fight fine lines and wrinkles. Although the formula felt "sticky" to some users, others suggested applying a moisturizer afterwards to counteract this.
Main Ingredients: Hyaluronic acid, vitamin B5, algae extract
Price: $$
Buy Tarte SEA Mermaid Skin Hyaluronic Acid Serum.
Dr. Barbara Sturm scalp serum
Not tied to the budget, this scalp serum is expensive. The serum provides the scalp with a high dose of moisture and moisture thanks to HA, purslane and papaya extract. Caffeine energizes and panthenol soothes. It is free from parabens, formaldehyde, phthalates and other unwanted substances.
Main Ingredients: Hyaluronic acid, purslane, papaya extract, panthenol, caffeine
Price: $$$
Buy Dr. Barbara Sturm Scalp Serum.
Olly Glowing Skin Vitamin Gummies
Hyaluronic acid in supplement form can reduce dry skin, and this combination, which also contains collagen, also supports overall skin health.
Online reviewers reported "more radiant" "hydrated" skin, but some weren't a fan of the product texture, while others saw no improvement in their skin.
Main Ingredients: Hyaluronic acid, collagen, sea buckthorn
Price: $$
Buy Olly Glowing Skin Vitamin Gummies Online.
NeoCell hyaluronic acid capsules
This supplement contains only hyaluronic acid as its main ingredient and, when taken as directed, provides 200 milligrams of the beneficial skin care ingredient. One reviewer noted a reduction in wrinkles, but paired the supplement with additional moisturizers.
Main Ingredients: Hyaluronic acid
Price: $$
Buy NeoCell hyaluronic acid capsules.
Source link